All of the logistics of preparing for an event can be overwhelming. Between developing the initial concept, booking venues, collaborating with vendors and organizing the activities, your team will have a lot to manage.
Don't let your event promotional strategy turn into an added headache, though. Take a look at our tips on how to effectively market your event to ensure a strong strategy that engages target audiences and improves attendance.

Determine Your Messaging 
You'll want to use your promotional content to showcase event speakers and corporate sponsors while helping potential attendees see your event as invaluable. Consider the below when determining your primary messaging points:
Is your event a great place for attendees to network?
What are the key takeaways from your event?
What can attendees expect to learn from your event?
Who are the top speakers or influencers who will be in attendance?
Is your event unique within your industry? 
Make sure you thoroughly help potential attendees understand the vast benefits of registering for your event. Your goal is to give your event attention and boost registration, so you need to clearly define your value proposition and explain exactly what potential attendees are going to gain by attending. Here is where you need to make it all about your ideal attendee and their needs. Avoid making all of your messaging too sales focused and instead prioritize informing and engaging with potential attendees—helping nurture them to the point of registering. 

Develop a Customized Landing Place
Whether it's just a page on your website or an entirely separate site, your attendees need to have a place to find out all of the information about your event. A customized webpage helps you to organize and present information and curates a comprehensive place to direct interested attendees. Nothing is more confusing than having to click through multiple links to find one thing, so keeping everything together benefits your marketing strategy and can increase attendance. Customers who see your event might be prompted by impulse to buy tickets right away, too, so give them the opportunity to do so directly on the webpage. 
How We Did It
To help promote Restaurant Week Toledo (RWT), Concentrek developed a customized responsive website that provided people with a concise, informative place to learn more about the event. This website integrated valuable search functionalities, including the ability to filter searches by breakfast, lunch or dinner, as well as by location. Users could also select if they were searching for food or drink specials. This supported interested RWT participants in easily finding the specials that applied to their needs, streamlining the overall search experience. 
During Restaurant Week (March 1 to March 7), there were
17,000 users and 151,704 pageviews.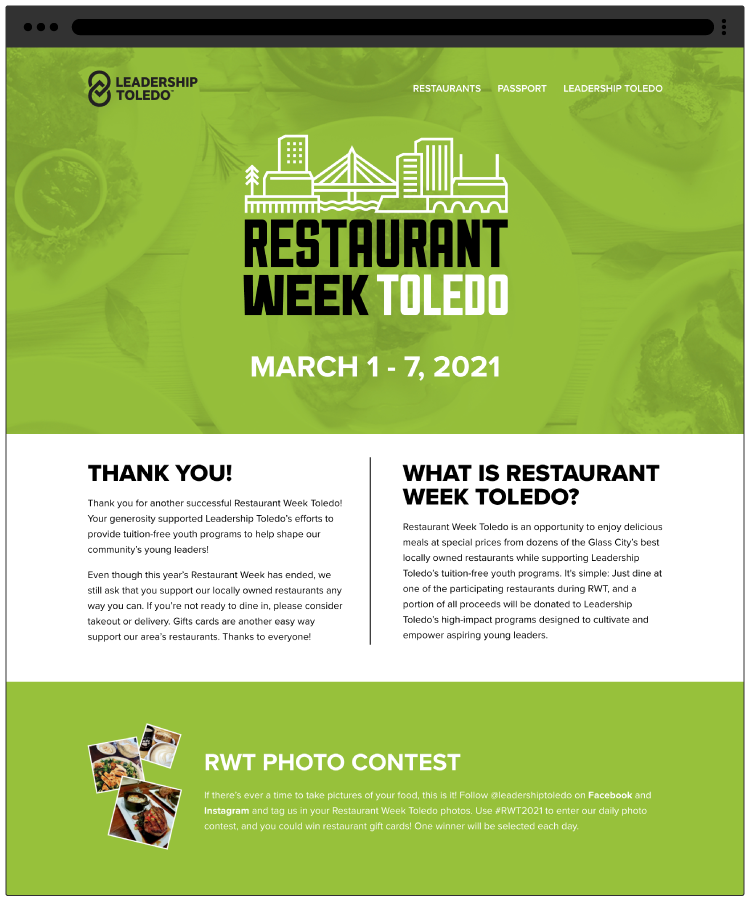 Prioritize Social Media Channels 
Almost everything is done on social media nowadays, and it's practically impossible to effectively market without a strong social presence. While we've included details on the top social channels, it's crucial to only utilize ones that are applicable to your ideal audiences.
No matter which platforms you integrate, though, we suggest that you create an event-specific hashtag. It should be unique yet easy to understand, and you should add it to all marketing efforts—social, emails and more. It will help people find your event across digital channels and create event awareness. It will also make it simpler to curate user-generated content (UGC) from the events, as attendees will utilize your branded hashtag to be part of the larger conversation. You can then use this UGC during or after the event to showcase positive experiences from attendees. 
Additionally, keep in mind as you create social content that you don't want your audience to only hear about your event during the months leading up to it. Ensure that you are varying your content messaging to sprinkle in the event promotion—but still educate and engage on other topics. Understand what your audience wants from you and create a cadence that works for optimal engagement. 
Facebook
Facebook ads are a common and well-tested way of spreading news about an event. You can target your audience's interests and location to make sure your event is reaching the right users. Use a call-to-action to drive clicks back to your website so interested prospects can find out more about your event. 
Creating an actual event on Facebook can generate excitement and gauge how many people are interested. Through Facebook events, people can share your event details, and you can even have your employees invite their friends and followers to attend. It's an optimal organic way to create interest and spread the word. Additionally, if your event involves ticket purchases, you can link your ticket sales through the Facebook event. This makes purchasing a seamless experience for potential attendees who find your event though Facebook, as people won't get distracted or frustrated by needing to take multiple steps to buy tickets. 
Your company can also consider integrating Facebook Live videos, which are an excellent way to promote your event in real-time.
Interactions with Facebook Live videos are
68 percent higher
than image-based posts.
– MARI SMITH
Facebook Live videos are a huge opportunity for your brand to engage and educate target audiences leading up to and during the event. By broadcasting a Live video, you can reach an audience that might not have been able to come to your event, too, which will improve your brand's exposure. 
Instagram
Instagram is an image-driven platform, so it would make sense that visual and video marketing would thrive. Your strategy here should focus on your visuals. A picture is worth a thousand words, right?
As the event gets closer, share some of the behind-the-scenes preparations to create excitement around the big day. Try experimenting with adding some of your event prep on Instagram Stories to give people the opportunity to see how everything is coming together.
Ensure that your brand uses high-quality images paired with relevant and appropriate captions. Since Instagram is all about hashtag visibility, this is the perfect place to incorporate your event hashtag and start building awareness around it. 
Just like with Facebook Live, you can also consider integrating Instagram Live video into your approach to help showcase behind-the-scenes moments or preparations for the event. This approach can help build excitement and share timely snippets from the event itself. 
Snapchat
Snapchat isn't for all brands, but it's a useful tool for some promotional purposes. Snapchat's usage tends to skew toward a younger audience, so if that is a target age range for your event, it could be a strong investment. 
You can promote the event through ads or organic posting—or even create a Snapchat filter for the day of your event to further market it and provide your attendees with an easy and fun way to share your event with their followers. 
How We Did It
Opening Day in Downtown Toledo is a huge celebration, and the Concentrek office is in the heart of it all. To help promote the agency and provide a fun experience for nearby attendees, Concentrek developed a custom Snapchat Geofilter. The geo-range was set up to target the primary areas where Opening Day celebrations were occurring, including the Concentrek office. This custom filter was a fun and easy way to engage people who were in Downtown Toledo for the celebration that additionally helped promote the Concentrek brand.
The Concentrek Opening Day Snapchat filter achieved
5,409 views and 111 uses
over the course of a few hours.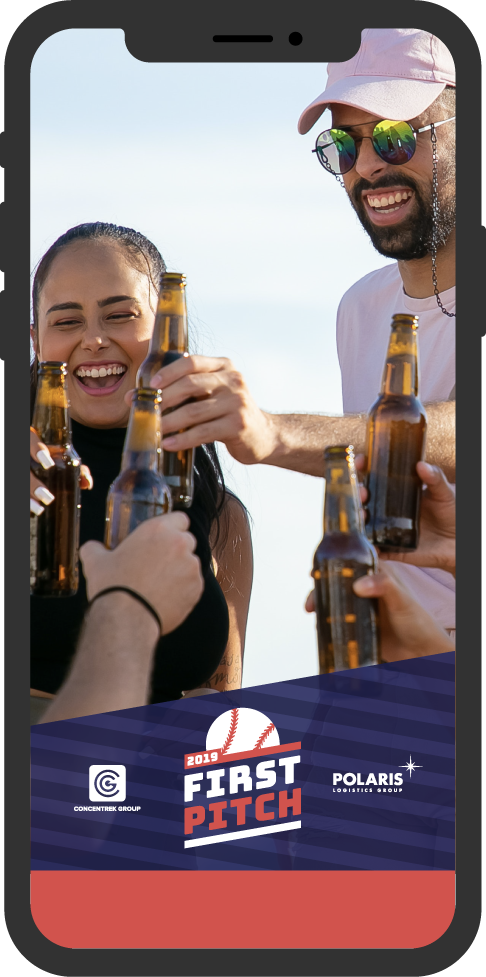 LinkedIn
LinkedIn is a valuable platform for B2B companies to market their events to likeminded individuals and prospective customers. LinkedIn offers a feature called LinkedIn Events, which helps promote and inform target audiences of your upcoming event. Whether it's a trade show, seminar, conference or simply a professional meetup, LinkedIn Events can be key in successfully spreading the word. You can set your event to be public or private and allow your invited connections to invite their own connections, ultimately expanding reach. LinkedIn also allows you to request interested attendees to register, so you gain their contact information for remarketing down the road.
In addition to creating a helpful LinkedIn Event page, ensure your own Business Page is properly promoting organic content related to your event. This can include mentioning guest speakers, learning sessions or venue information. Remember to keep it audience-focused and avoid turning your content into a sales pitch.
Leading up to your event, you should also encourage employee advocacy throughout your organization to help improve the reach of any LinkedIn content.
When employees share content, they typically see
a click-through rate that is 2x higher
than when their company shares the same content.
-LINKEDIN
Asking your employees to share your company updates to their personal profiles can create a sense of company-wide excitement and further promote your brand.

Integrate Email Marketing
Social media marketing isn't all that you have to think about. Incorporating email into your promotional strategy will help further engage target audiences, including your existing customer base.
Take advantage of your existing mailing list by curating a comprehensive email campaign. Ensure that each message has a distinct purpose and varying creative elements. One email could simply showcase what attendees can expect, while another could more directly promote registering or purchasing tickets. Keep your audience engaged by varying your visuals, including integrating a mix of images and videos.
If you've previously run a similar event or even the same event, consider providing recaps in your promotional emails that showcase real attendee experiences, like testimonials or user-generated images. This can help your audience see firsthand experiences of the value of your event and hopefully help them to feel compelled to attend.
How We Did It
To help Sonendo® promote specific events taking place at American Association of Endodontists (AAE) Annual Meeting, Concentrek developed a custom promotional email campaign, as well as a corresponding landing page that allowed individuals to directly register for the event. Concentrek deployed email sends to Sonendo's specific list of those who had pre-registered for AAE to help ensure targeted communications. The Concentrek team ultimately worked to achieve Sonendo's goal of promoting these special corporate-sponsored events that coincided with the larger trade show while encouraging registration for these events.
The email resulted in above average engagement, including a
26% open rate and 5.14% click-through rate.
The online promotion of the event ultimately resulted in
131 event registrations.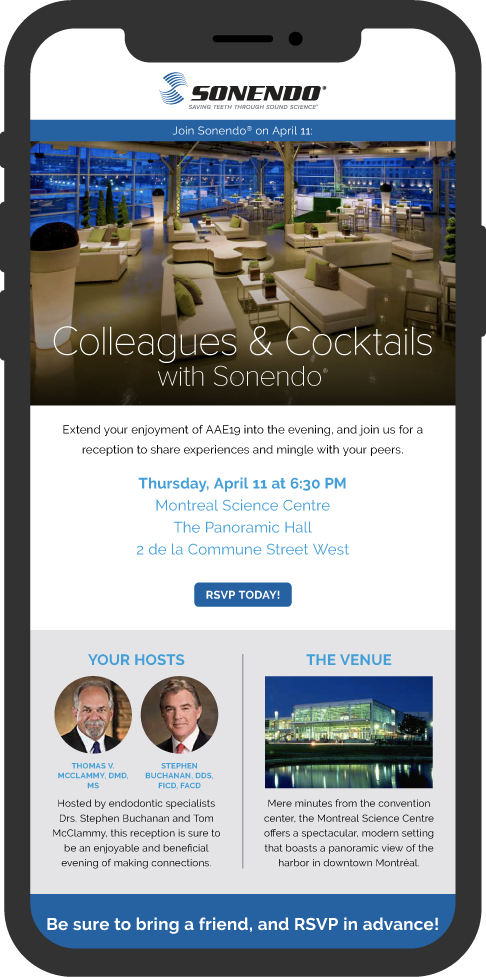 Your company should also consider using drip campaign options to follow up with people who didn't open or engage with your email to further your marketing reach. Drip campaigns involve creating and deploying a set of emails that are automatically scheduled to help guide a target prospect or customer to complete a specific action. For example, if someone clicks on your initial invitation email but takes no further action, you could have an applicable follow-up automatically be sent to them to continue nurturing them to attend your event.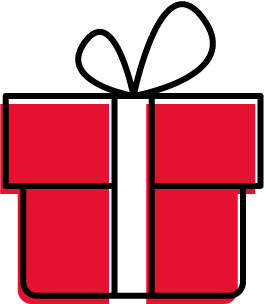 Wrapping it Up
Preparing for an event is a lot of upfront work—but your promotional strategy doesn't have to be an added stress. Take the time to understand what differentiates your event from others, then build out messaging across multiple digital touchpoints to educate and engage potential attendees. Make sure that your employees are integrated into the marketing process, as well, because their advocacy can help significantly increase the reach of content. 

Take the Next Step
Developing and executing an event marketing strategy doesn't have to be hard. Our team of marketing experts can help your business promote its event, giving you the time to focus on the event itself. Contact Concentrek to start a discussion today.