What was the first thing you did when you woke up this morning? Jump right out of bed and get dressed? Make breakfast? Most likely, you checked your phone—and you probably opened your email. Why? Because people love staying on top of relevant notifications and events. 
Nearly 46 percent of Americans admit to checking their phones as soon as they wake up—and 30% of that number check email first! Meaning that, contrary to popular belief, email is not dead. In fact, it's still a great way to reach your customers, as long as you're doing it right.
Everyone Checks Email—Reading Them is Another Story
Everyone has an email account. Whether it's for work or to set up a social media account, you can't live in this technological world without one. So, chances are, people will see your email if you send one, as over 91 percent of people access their email at least once a day. The challenge is getting people to open and read your messages!
So, what you do to get people to click on your email involves a few considerations:
Subject Line
Be accurate and authentic, yet short and concise. If people click on an email and don't get what they expected, your click-through rate will suffer. A study from Retention Science suggests that subject lines with 6-10 words have the best open rates. Avoid using spammy words to stay on your customers'—and their email providers'—good side, to keep your emails out of SPAM folders.
Personalization
Try using the customer's name within the subject line or body of the email. Emails with personalized subject lines are 26 percent more likely to be opened. Remember that you want them to feel special but not like their privacy has been compromised, so be sure to understand limitations on personalization.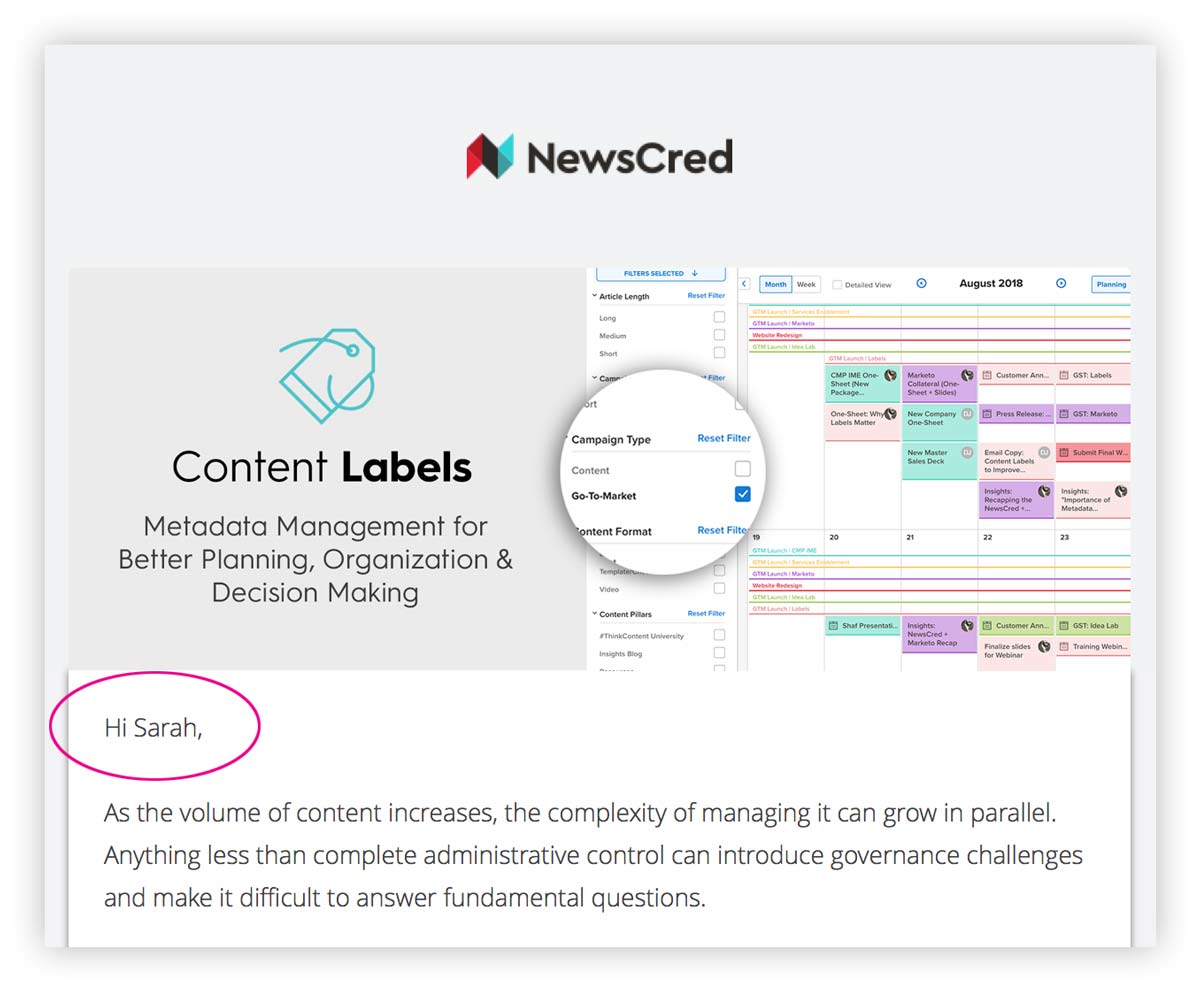 First Impression
The first email you send a new subscriber can determine their future click-through. Try to draw them in immediately with welcoming content. Sprout Social offers new subscribers a free social media toolkit right away to thank them for subscribing to their blog.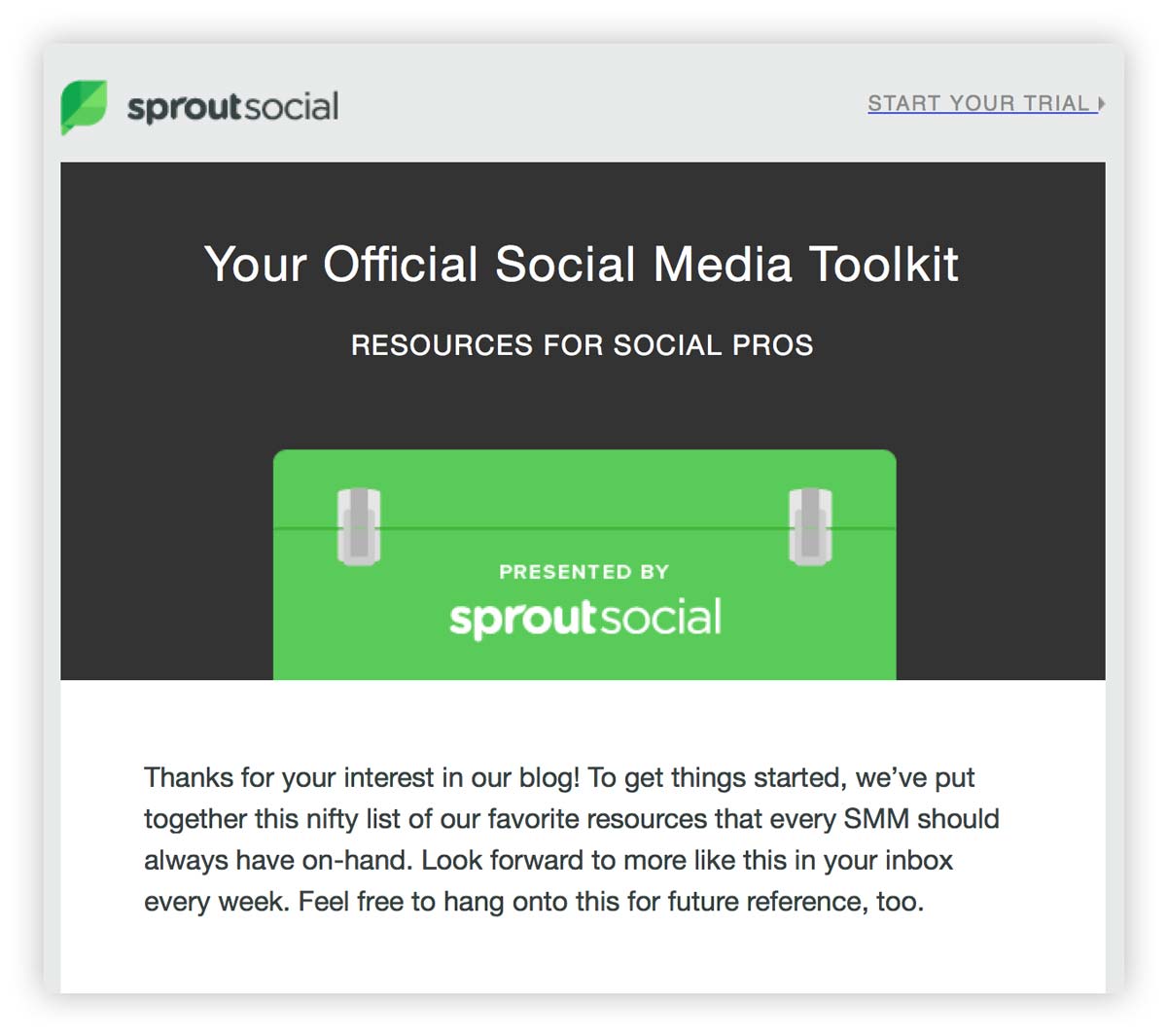 Tell a Story
People are inundated with ads and emails sent just for sales. Stand out from the crowd by telling a story about your product or service, providing the human connection that will make people identify with your brand.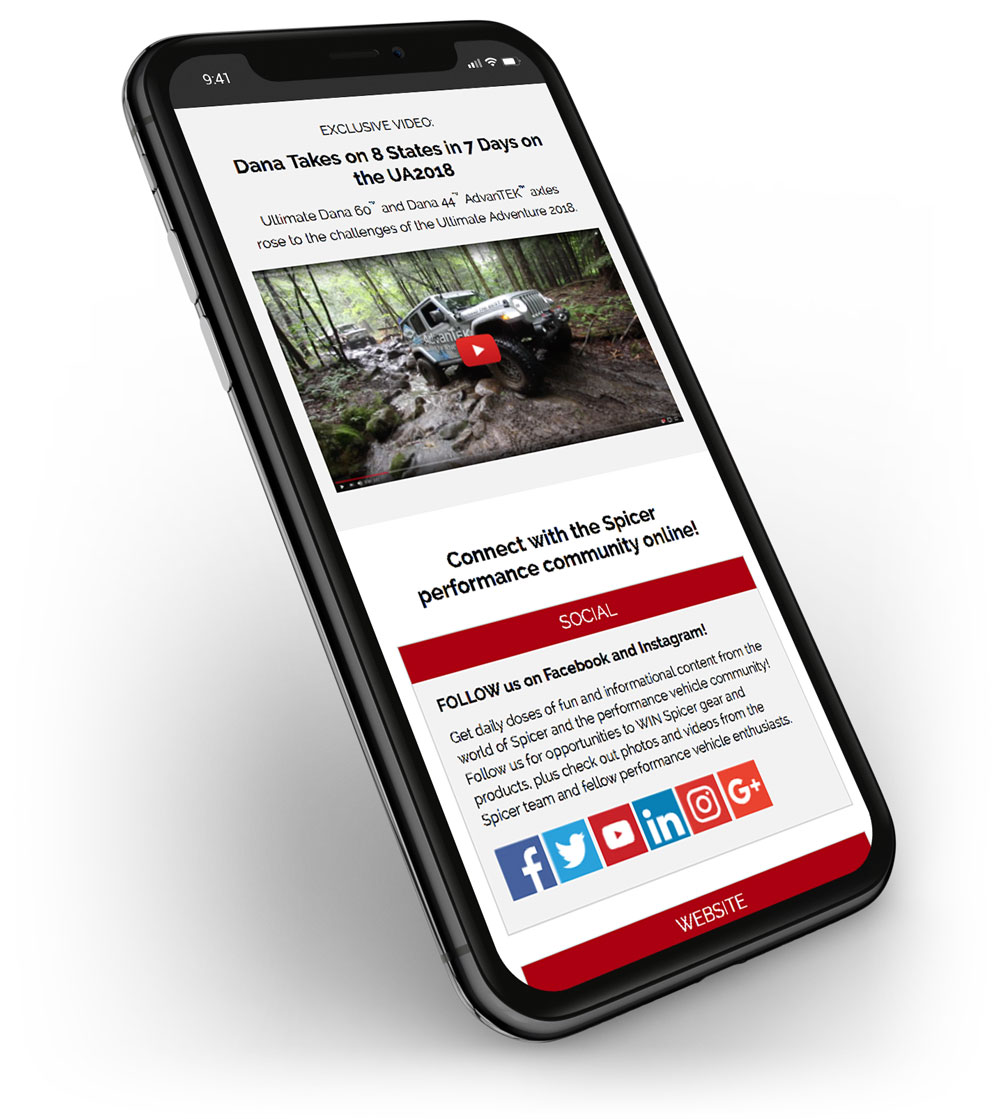 Images
Images need to be unique and creative to grab the reader's eye. Customers see up to 10,000 brand ads a day, so it's important to be memorable and relevant. Some of J.Crew's emails have nothing to do with clothing. Instead, they use crisp and clean photos of mouthwatering food. It's still on brand with J.Crew's colorful and playful approach to clothing—and who doesn't love food?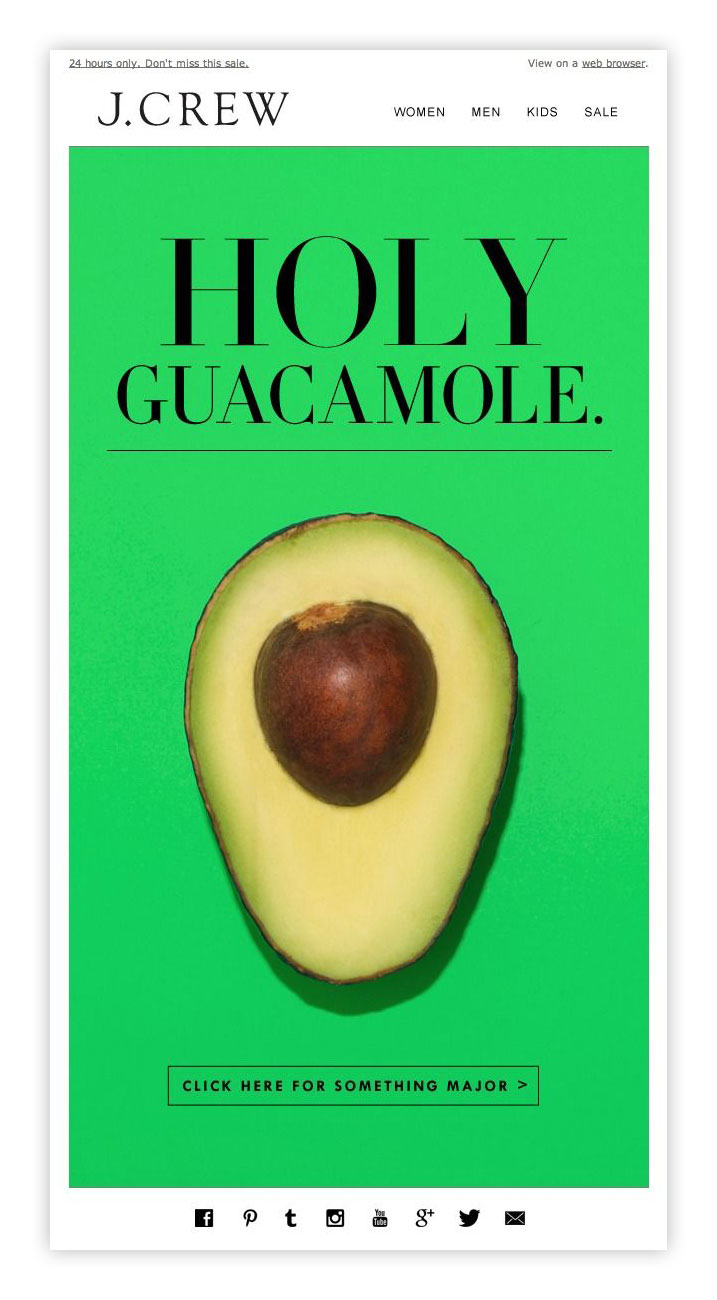 Emails with three or fewer photos do better than ones with overwhelming graphics. The layout of the email should guide the reader through the images and lead them to the call-to-action. Pyramid, zig-zag and one-column emails have proven successful in driving website clicks. 
Word Count
Emails with 20 or fewer lines of text result in the highest number of click-throughs per email. Less is more for general sales-driven emails. If it's a brand awareness email or a big company announcement, more words will be necessary. But remember, people are trying to get to inbox zero ASAP, so brief is almost always better. 
Be Careful with Sending Too Much
Emails might be a great way to target groups, but don't tire your customer base out too quickly: 78 percent of people have canceled email subscriptions just because they were receiving too many. At least one promotional email a month is preferred by 61 percent of people, and 15 percent say they wouldn't mind receiving one a day. A good balance would be an email per week, but each company should work to find its own sweet spot. 
Email Platforms
Investing in an email marketing platform is key to consolidating tasks and managing personalization and auto-responses. The top four platforms for small to medium-sized businesses are MailChimp, VerticalResponse, Constant Contact and Emma. Each has its own features and levels of control that cater to your business' needs. 
MailChimp: This service is the most popular option, especially with its free plan for small businesses. It's a no-fuss platform that works with many third-party providers to make your experience easier. One drawback to MailChimp is that they don't include auto-responses.
VerticalResponse: Their free plan offers up to 4,000 emails per month but can be increased with a paid plan. VerticalResponse also has an auto-respond feature that resends emails to customers who didn't open them the first time. 
Constant Contact: Constant Contact is geared toward first-time users and has a smooth user interface. They have plenty of predesigned templates that serve the needs of small to medium-sized businesses, and it syncs well with Gmail and Outlook. However, it can be difficult to create customized, reusable templates.
Emma: This is one of the more advanced email marketing platforms. They require a minimum of 2,500 contacts to start but have great auto-response and customization features. 
Use Targeted Lists Wisely
Subscribers signed up for your email list for a reason. Maybe they want to know more about your products. Maybe they were hoping to get exclusive coupons and offerings. Whatever the reason, you now have a list of people interested in your brand. Use it!
Lists can be targeted to specific groups and their preferences—general daily updates, weekly updates or product updates. Not everyone wants to be bombarded with emails updating them on your brand's every move, but some do. Target each group to make sure no one is getting too much or too little mail, and be sure to make setting preferences easy so your audience can get the appropriate emails. 
No More SEO
Emails don't use SEO or rankings to determine what page your email will land on. Instead, all emails are filtered into inboxes together, so timing might be the only ranking you can control. Most marketers are in agreement that Tuesday, Wednesday and Thursday are the best days to send out emails, with Thursday from 8–9:00 a.m. being the optimal time. 
Offer Exclusive Content
Don't send emails just to send them; make them have a purpose! Have a goal in mind for each email, whether it is for sales, informing customers or getting more information from them. If you're just trying to get your name in their inbox, customers aren't going to be amused. They want actual content—not just another email to delete. 
Many email marketers offer exclusive content, like informative articles or coupons, that are only available through their emails. A survey conducted by MIT and Yahoo found that 91 percent of participants had received a coupon via email during a week's time, and 65 percent of them had used it. People love sales and feeling like they've been given a good deal, like free shipping or 20 percent off "just for them." You can also utilize exclusive downloads or PDFs of relevant content, which can be used to drive engagement with emails.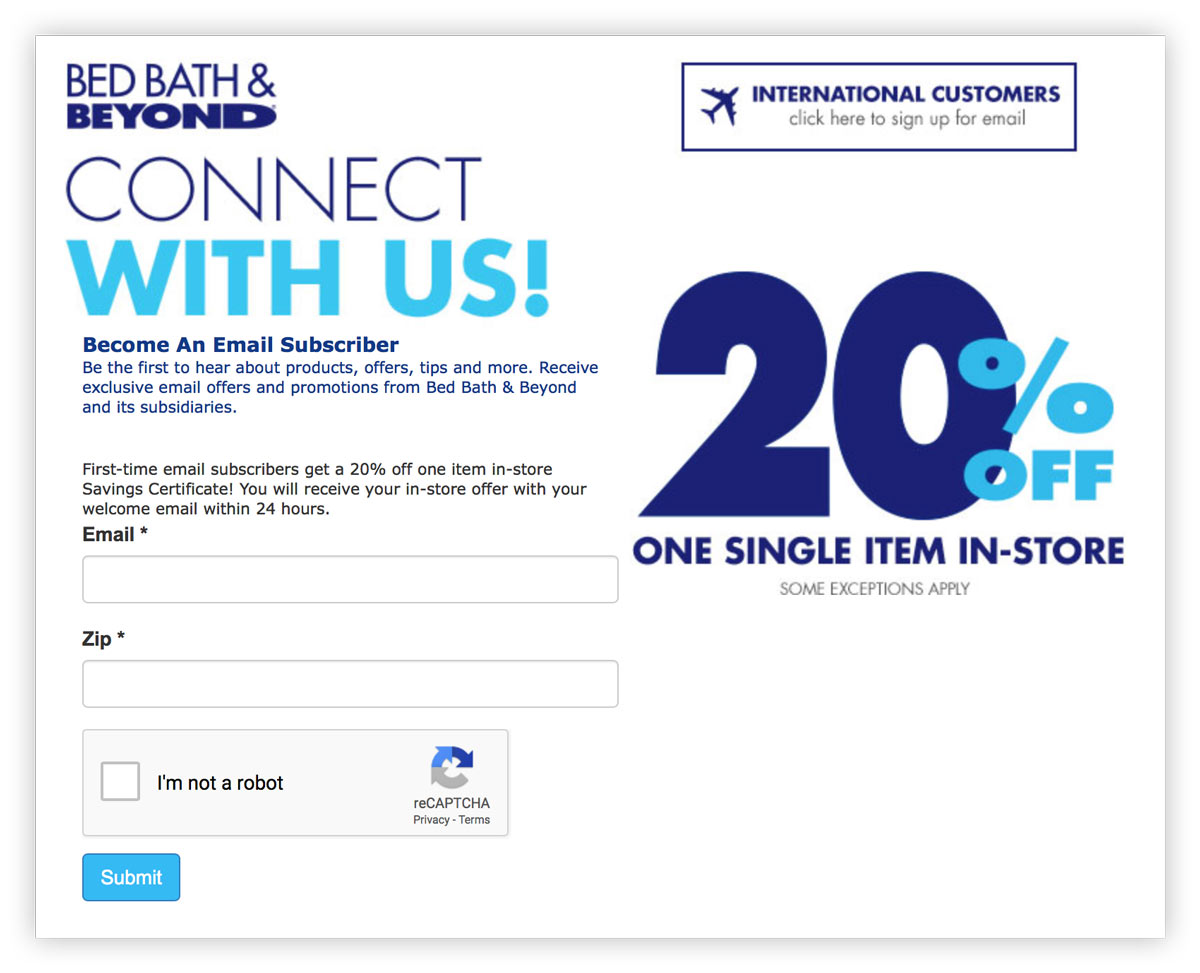 Emails Drive Online Sales
Email marketing is still the number one way to drive online sales, accounting for around 23 percent of sales revenue and beating out social media for the top spot. When people open emails, it's easy to link out to products as opposed to social media apps, where you sometimes need to leave the app to make a purchase. 
Emails provide more space than limited social media posts for explaining products and using graphics, as well. People want to have the human interest piece that will convince them to purchase. Maybe it's that your product was inspired by a current event. Or maybe you took customer feedback, as in the case of J.Crew.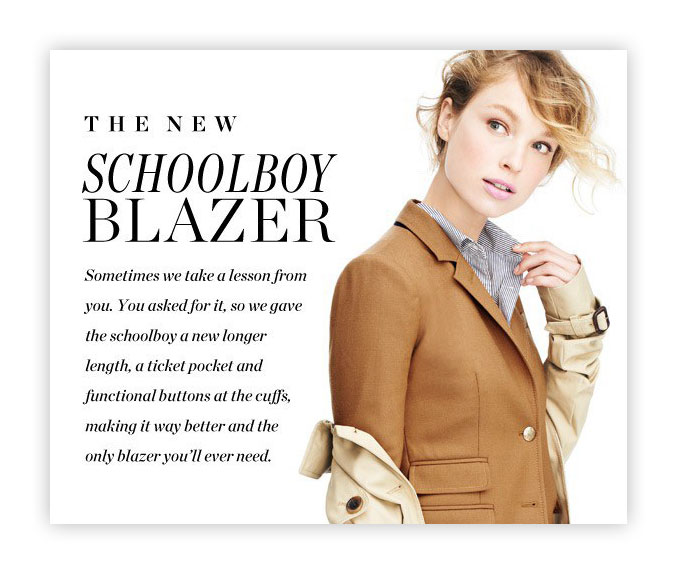 Not all emails have to focus on direct sales when targeting leads. Framebridge, a framing company, sends emails with educational material, like tips on how to hang your art. Sephora does the same with customer education, providing pro tips from beauty advisors in their emails. From these educational emails, customers will be inspired to utilize these insights and likely purchase from you when doing so. 
Lead Nurturing with Drip Campaigns
By having a potential customer's email, you can turn convert leads into buyers by effectively using email. Using a drip campaign will keep new subscribers engaged and updated on your brand. 
A Baymard Institute study states that 75 percent of online shopping carts are abandoned every year. Casper, a mattress company, sends reminder emails when customers abandon online carts. By setting up this drip campaign, customers are 2.4 times more likely to complete the purchase.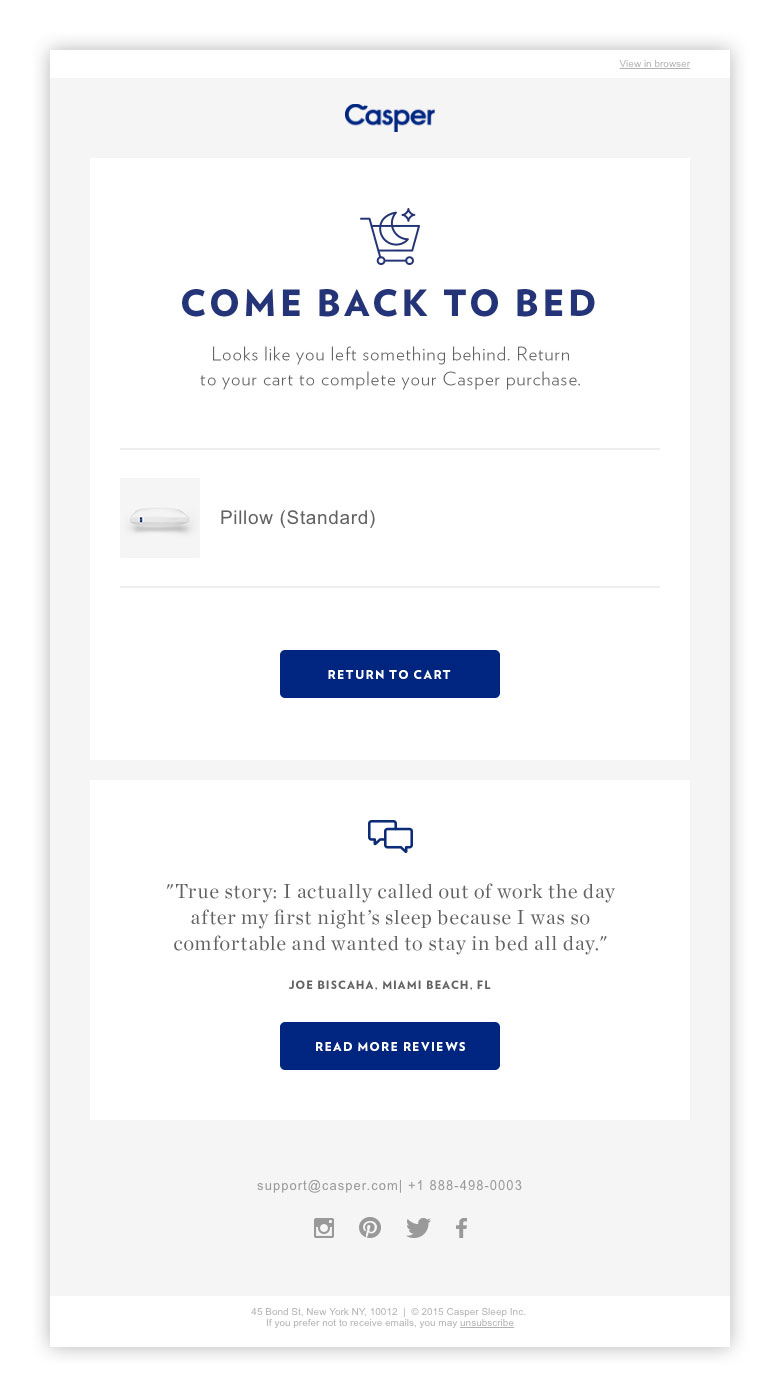 Emails can also be triggered to resend if customers don't open the first as a gentle reminder. Another popular tactic of drip emails is to send new subscribers a series of educational information and coupons.
GDPR Changes 
You've probably heard about the GDPR changes in the news and received a lot of emails about company privacy updates. Every website today seems to want to tell you that they're using cookies. But why does this matter in email marketing?
The European Union has updated its General Data Protection Regulations (GDPR) to be uniform across all member states. Protecting the privacy and data of all citizens under one uniform set of guidelines makes it easier for all international companies to understand and comply. The laws formally went into effect in May 2018 and affect almost all companies worldwide.
Under the new law, pre-ticked opt-in boxes aren't allowed. Subscribers must actively confirm their consent to receive emails. Just because someone gave you their email to get a free download doesn't mean you can email them; you must have asked for their permission somewhere. And, to top it all off, companies must be able to prove that they have received permission to email every single person on their list!
Emails must also make it easy for people to unsubscribe—and they must be able to easily find it. Consent of data use must stand alone from terms and conditions, so customers can clearly see what data they are consenting to give up.
So, while collecting emails from enticing free downloads and coupons is a great way to gain more leads, make sure to have an active opt-in checkbox for subscribers.
Email Marketing Doesn't Have to be Hard
Looking for help launching a successful email campaign? Concentrek can help manage your email marketing strategy. Our team can provide the creative work needed to make your emails stand out from the rest.