What was the first thing you did when you woke up this morning? Most likely, you checked your phone—and you probably opened your email. Why? Because people love staying on top of relevant news and events.
60 percent of consumers say that they have made a purchase because of a marketing email they received. That means that contrary to popular belief, email is not dead. In fact, it's still a great way to reach your customers—but only when you pair your email efforts with a concrete strategy.

Why Email Marketing?
Email marketing continues to be one of the top ways to engage with customers, yet some are still skeptical of its effectiveness.
Consider these statistics:
9 out of 10 marketers use email marketing to distribute content organically
The number of global email users is set to grow to 4.3 billion by 2023
49 percent of consumers said that they would like to receive promotional emails from their favorite brands on a weekly basis
Email is a valuable addition to your content strategy, so keep in mind the below advantages as you build out your email marketing approach.
Personalizes Marketing Content
Email allows you to customize your campaigns and create targeted content that is tailored to specific groups like returning customers, new subscribers or people who meet other criteria. This not only helps you target the right people with your content but also positively impacts your customers' experiences.
You can take your personalization efforts further by integrating customer names within the copy if you have the data and information available. In fact, emails with a customer's name in the subject line receive a higher click-through rate than those that don't. You want to provide a one-on-one experience to make your audience feel heard and remembered, as though you're speaking only to them. You should also write copy that engages with your audience in a friendly manner, as this is a key factor in whether or not someone will open your email.
Helps Drive Online Sales
Email marketing is still the number one way to drive online sales, accounting for around 23 percent of sales revenue and beating out social media for the top spot.
Emails also provide more space than limited social media posts for explaining products and using graphics. Utilize the space in your email to describe your product or service, how it works and how it can help your customers. Show photos or link to a video on how to use your product and invite people to learn more with an enticing call-to-action. Email can show your audience you are listening to them and have the capability to adapt to their needs and requests.
How We Did It
For our monthly Concentrek newsletters, we work to incorporate updates to our business, as well as relevant articles on the latest trends in the marketing industry. This helps our audience stay in the know by providing useful information directly to their inboxes—and offers another useful avenue to share our insightful content.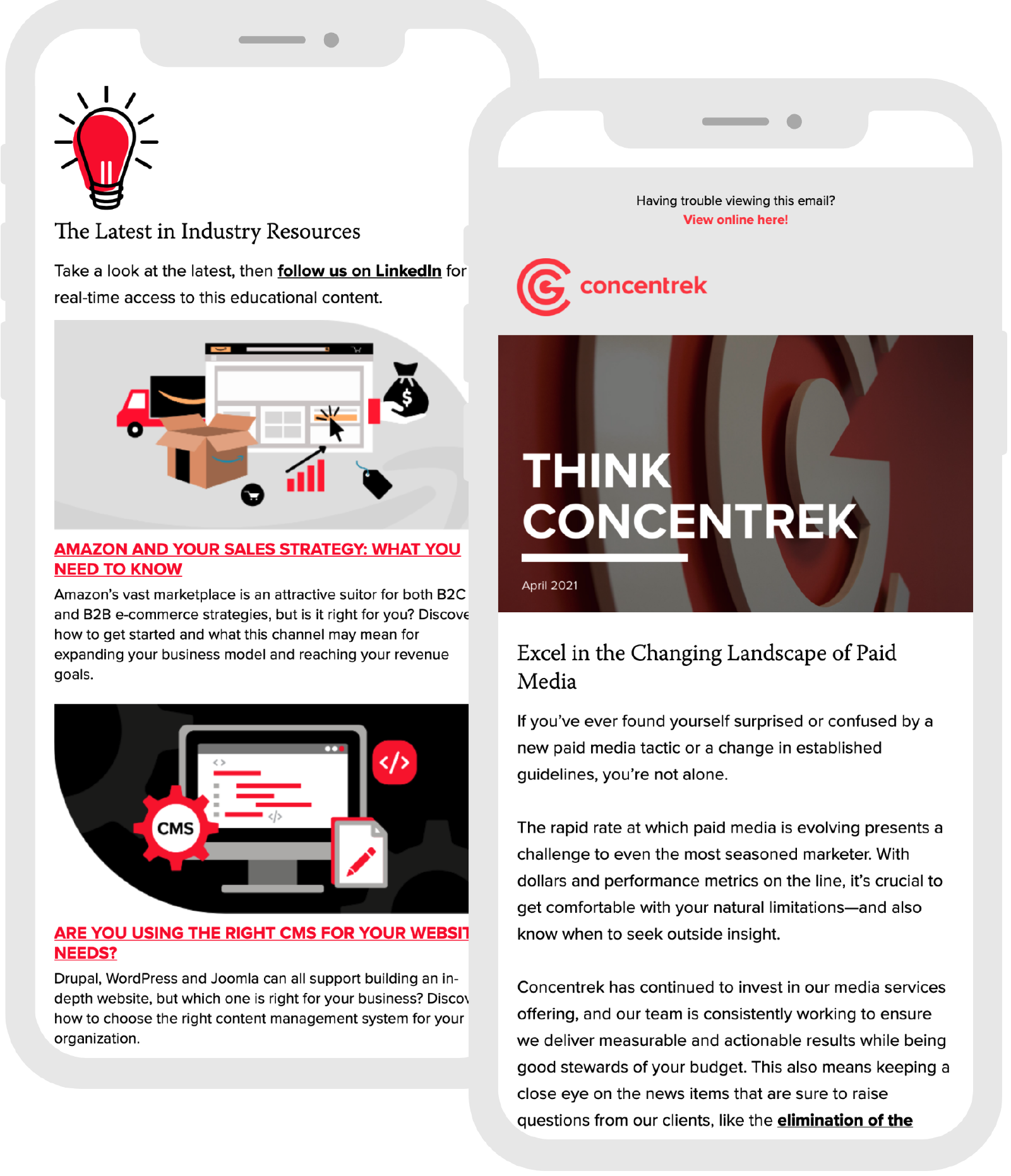 Offers Helpful Resources
When creating email campaigns, remember that not every email has to focus on direct sales. You should also integrate helpful content to educate, inform or inspire your audience.
This can include:
Relevant blogs
Insightful infographics
Current market trends and statistics
Updates to your business
Upcoming events or webinars
Be a resource for your audience that they can trust—and in return, they will remember your business as a solution.
Quick Stat
By setting up a drip campaign, customers are 2.4 times more likely to complete the purchase.
–TargetBay
Enhances Lead Nurturing with Drip Campaigns
Globally, the average rate of cart abandonment without a purchase is 75.6 percent. That's where a drip campaign can be an asset. Drip campaigns involve creating and deploying a set of emails that are automatically scheduled to help guide a target prospect or customer to complete a specific action.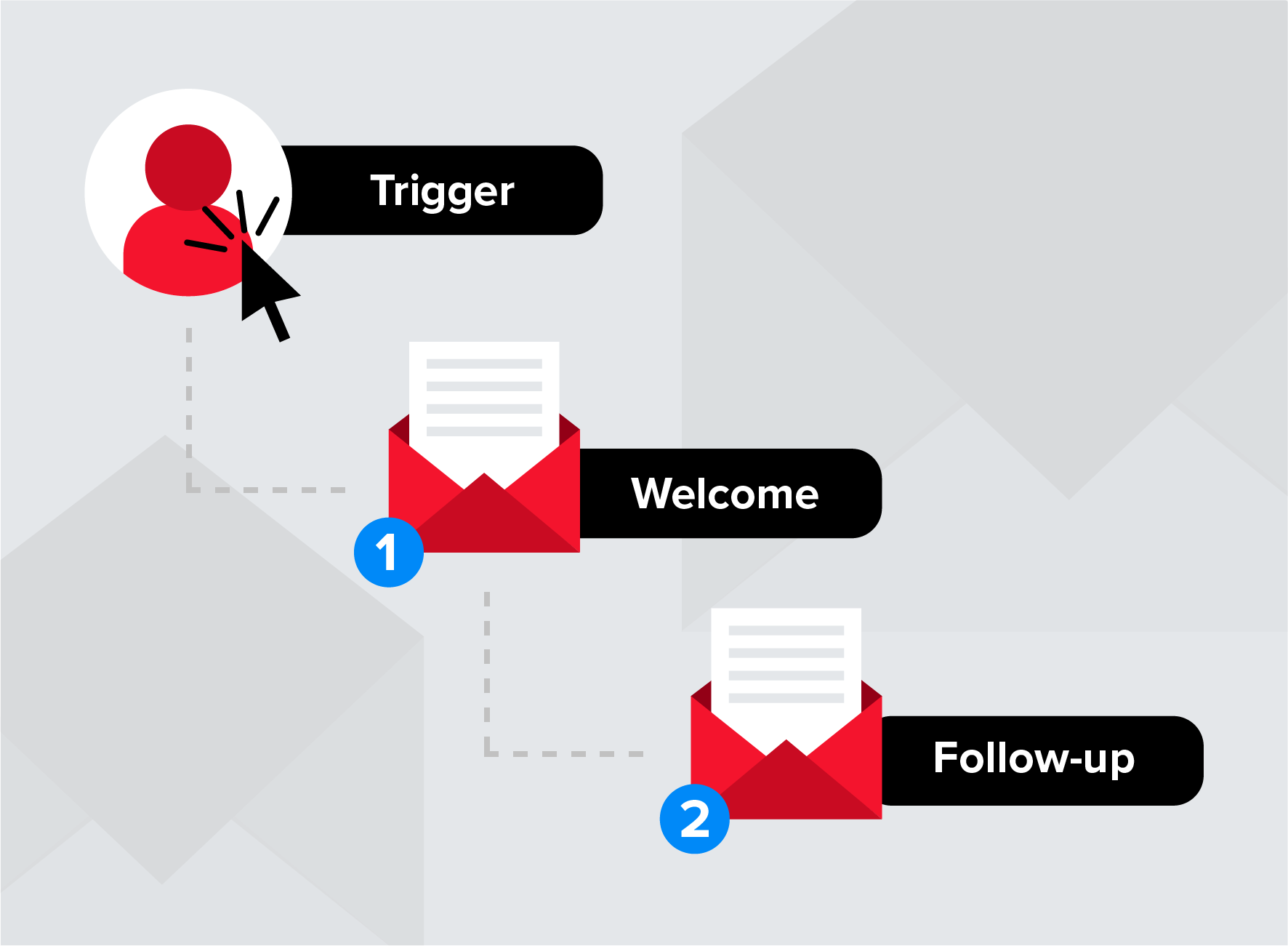 Say someone puts your product in their digital cart and then abandons it without completing the purchase. A drip campaign can automatically send them a welcome email, then a few days later will send another email on the latest updates with your brand. This helps new subscribers gain relevant information in a timely manner—without overloading them on everything they missed prior to signing up. By implementing a drip campaign, you can convert leads into buyers effectively.
How We Did It
We created a customer drip campaign for Sonendo®, who wanted to welcome new users to its Konvert™ learning management system (LMS). Once users joined the Customer Portal, they were added to an email list, which triggered the beginning of the drip campaign. New users would then receive a series of emails beginning with a welcome email to help onboard them and highlight different features of the Portal. This drip campaign helped Sonendo streamline onboarding processes, ensuring they were capable of successfully navigating within the LMS without the need to individually train each new user.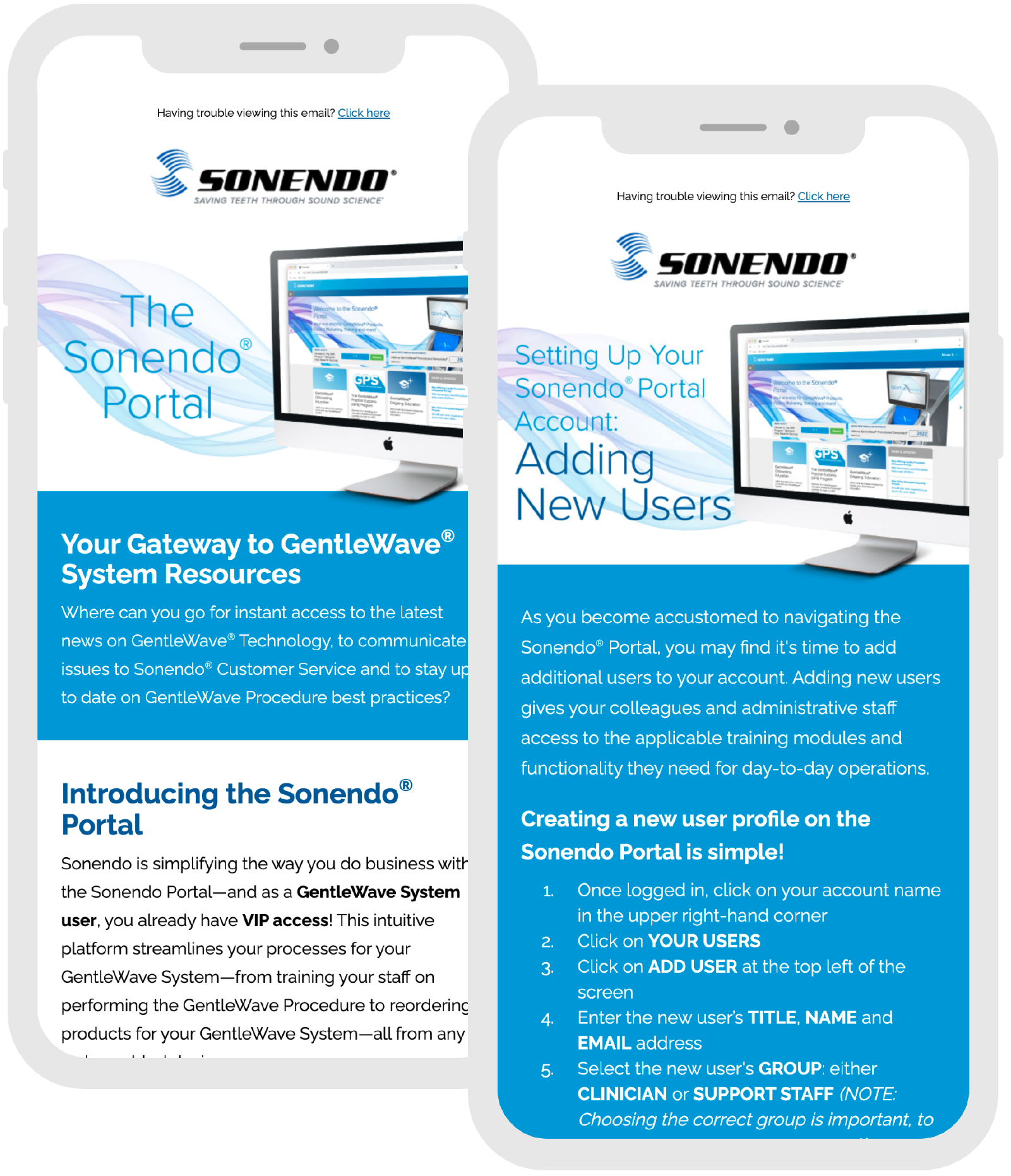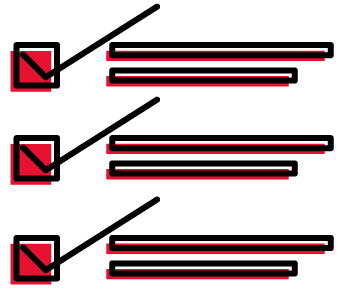 Best Practices for Your Email Marketing Efforts
Nearly everyone has an email account, but the challenge is getting people to open and read your messages. Fortunately, an optimized email message and campaign can help you achieve higher open rates.
Evaluate the Setup of Your Email
You want to grab your audience's attention from the start, and there are a few key places you can optimize to stand out.
Subject Line: Be accurate and authentic—yet short and concise. If people click on an email and don't get what they expected, your click-through rate will suffer. A subject line with six to ten words has the best open rates. Also, keep in mind many people are viewing emails on a mobile device, so you should adhere to the ideal character count of 41 to 70 characters. Avoid using spammy words to stay on the good side of your customers—and their email providers. This includes avoiding words like 'free" or "guarantee" to keep your emails out of spam folders.
Personalization: Emails with personalized subject lines are 26 percent more likely to be opened. You want recipients to feel special but not like their privacy has been compromised; be sure to understand limitations on personalization. Avoid taking advantage of their trust by sending them irrelevant information or recommendations that do not apply to them. It's also imperative that if you choose to include your subscriber's name that you address them correctly. You also want to keep time zones in mind to ensure your audience receives content at a time they will feel compelled to read it.
The Story: People are inundated with ads and emails sent just for sales. Stand out from the crowd by telling a story about your brand that people will want to read about. Your customers will connect with success stories, origin stories and behind-the-scenes interviews that humanize your brand. For email, this may mean showcasing an employee, the founder of your company or a customer who's just like your reader.
Quick Stat
Messages delivered as stories are 22 times more memorable than bare facts alone.
–MarketingProfs
Word Count: Keep email copy between 50 and 125 words, as emails of this length typically see response rates of 50 percent. Determining the purpose of your email can help in setting the right length. Are you inspiring, informing or educating your audience? If your email is focused on sales, it may be beneficial to keep it as concise as possible. When you're directly providing value to your audience, though, you may see longer emails perform better. Always keep in mind that your audience's needs should be your priority.
Create a Lasting First Impression
The first email you send new subscribers can determine their future click-through, so try to draw them in immediately with welcoming content. People respond positively when they believe they've been given a good deal, so consider offering a coupon to new subscribers to secure email loyalty and encourage future clicks.
A study showed that 91 percent of participants had received a coupon via email during a week's time, and 65 percent of the receivers actually redeemed it—making deals and offers in your emails crucial. Your first email can also be a great place to set the expectations for what your subscriber will be seeing from your business in future emails. Be transparent and open with your audience from the start.
Add Engaging Visual Content
Customers can see up to 10,000 brand ads a day, so it's important to be memorable and relevant. Emails with three or fewer photos do better than ones with overwhelming graphics. The layout of the email should guide the reader through the images and lead them to the call-to-action. Pyramid, zig-zag and one-column emails have proven successful in driving website clicks.
Quick Stat
Including video in your email can increase click-through rates by 300%.
–Martech Advisor
Including a link to video content is another engaging way to provide your audience information and is especially useful for visual learners. You can embed a link and include an attention-grabbing thumbnail in your email, which will help drive viewers to watch your video. Video can be used to promote a new product, explain an event or simply make an announcement. This content format is also an excellent way to showcase your branding and company culture, which help humanize your brand and increase your click-through-rate.
Use Targeted Lists Wisely
Subscribers signed up for your email list for a reason. Maybe they want to know more about your products or were hoping to get exclusive coupons and offerings. Whatever the reason, you now have a list of people interested in your brand. Use it!
Lists can be targeted to specific groups and their preferences, including general daily updates, weekly updates or product updates. Not everyone wants to be bombarded with emails updating them on your brand's every move—but some do. Target each group to make sure no one is getting too many or too few emails and be sure to make setting preferences easy so your audience can get the appropriate emails.
Shift Focus Away from Search Optimization
Emails don't use search engine rankings to determine which page your email will land on. Instead, all emails are filtered into inboxes together, so timing might be the only ranking you can control.
Most marketers are in agreement that Tuesday, Wednesday and Thursday are the best days to send out emails, with Thursday from 8–9:00 a.m.in your ideal audience's time zone as the optimal time. It's important to monitor the active times of your own audience, though, and test out send times with your content to see what resonates best.
Avoid Clogging Inboxes
Emails might be a great way to target groups but don't tire your customer base out too quickly; 78 percent of people have canceled email subscriptions just because they were receiving too many. At least one promotional email per week is preferred by 61 percent of consumers, with 38 percent wishing they'd receive these emails even more frequently. Each company should work to find its own sweet spot, though, through testing and offering customized subscription preferences.
Remember: it's all about your audience's needs. You should be using email to improve the relationships, make your consumers feel heard and offer content they will benefit from.

Keep the GPDR in Mind
The European Union updated its General Data Protection Regulations (GDPR) to be uniform across all member states. Protecting the privacy and data of all citizens under one uniform set of guidelines makes it easier for all international companies to understand and comply. The laws formally went into effect in May 2018 and impact almost all companies worldwide.
Under the new law, pre-ticked opt-in boxes aren't allowed, and subscribers must actively confirm their consent to receive emails. Just because someone gave you their email to get a free download doesn't mean you can continue to email them; you must have asked for their permission for further communications. Additionally, companies must be able to prove that they have received permission to email every single person on their list.
Emails must also make it easy for people to unsubscribe—and they must be able to easily find it. Consent of data use must stand alone from terms and conditions, so customers can clearly see what data they are consenting to give up.
While collecting emails from enticing free downloads and coupons is a great way to gain more leads, make sure to have an active opt-in checkbox for subscribers.

Wrapping it Up
Email marketing can be a positive tactic for your future campaign efforts—but it is only worth investing in with the right strategy behind it. Ensure you're creating a personalized experience that offers value to your audience.

Take the Next Step
Looking for help launching a successful email campaign? Our team can provide the creative work needed to make your emails stand out from the rest. Reach out to us today.