It's no secret that LinkedIn has maintained its position as a powerhouse in the B2B social media world, particularly for professional networking. When used properly, LinkedIn is an invaluable tool for B2B businesses that can provoke engagement within likeminded communities.
Is your company using LinkedIn correctly? Read on to learn more about creating and optimizing your Page for effective brand growth.

Getting Started with LinkedIn
The purpose of LinkedIn is to curate a professional environment for your brand—and following the below steps can help you achieve this. 
First, consider what you want your LinkedIn presence to help you accomplish. Some potential goals to work toward include:
Generating leads and enabling your sales reps
Increasing your audience reach
Informing targeted individuals about your product or service
Finding qualified individuals to join your team
Improving brand awareness
Joining likeminded communities that share in your business' ideals
Once you've established your goals, you're ready to start setting up your brand's Page.

Company Page
The homepage is the front door to who you are as a business. Thoroughly complete the following sections of your company's profile to provide visitors a beneficial and informative experience.

Header
This section includes Page Info, which allows you to add basic information about your business, including your logo, a cover photo, the name of your company and a tagline. The Buttons sections is where you'll include a URL and select a call-to-action, such as learn more, visit website or sign up. You can include a link to a relevant page—like a registration page or an informational landing page—and encourage users to take an action based on what you want to achieve.
About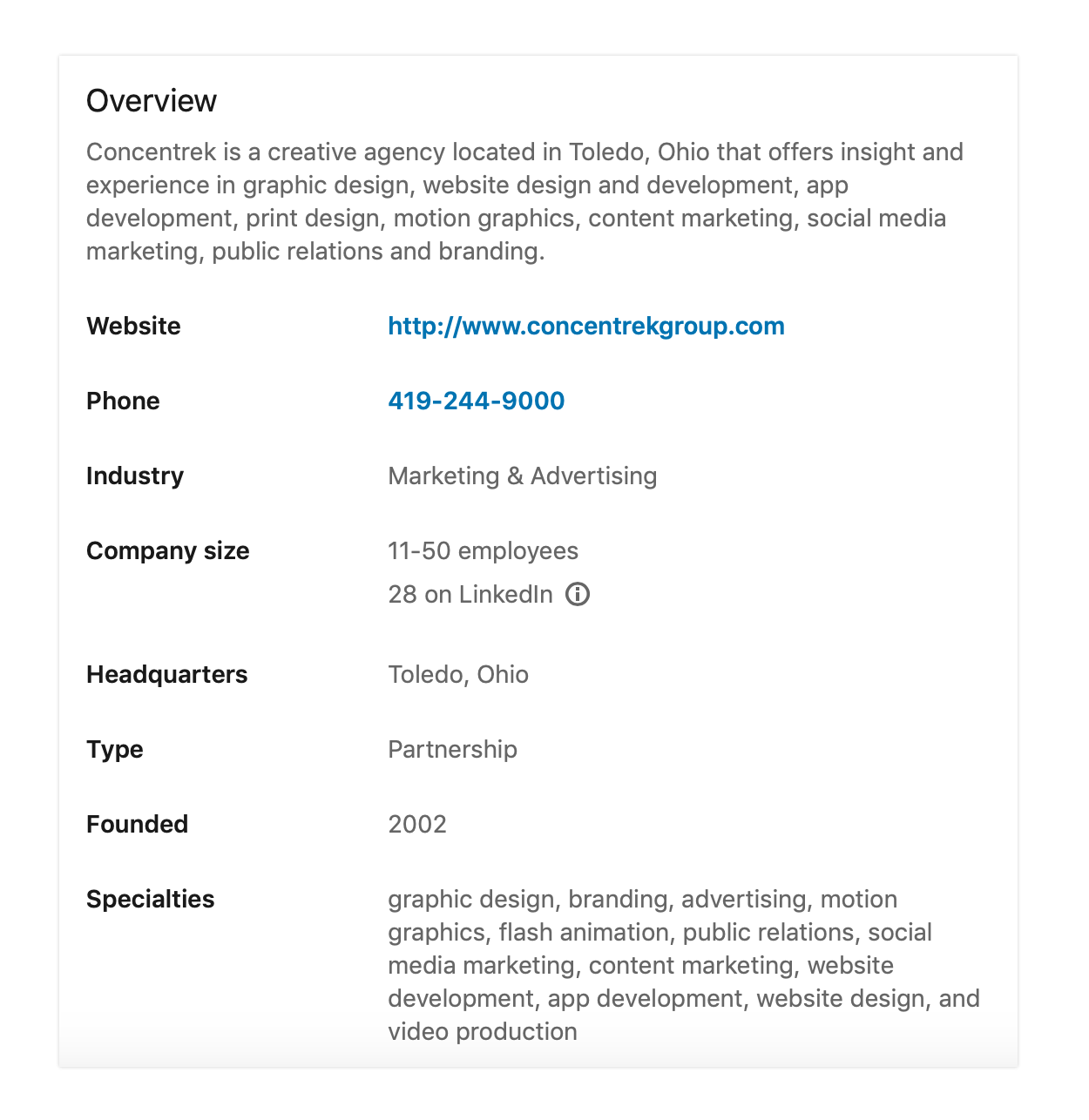 The About section is broken up into two subsections that contain detailed information about your company. The Overview section is where you'll provide a description of your company's purpose, as well as your industry, company size and type. A compelling company description should include your unique selling proposition, which will be a description of your product/service, goals and values in a memorable and distinct way. What makes your brand different? What makes your brand special?
You can also choose to include up to twenty specialties for your company, like social media marketing, public relations or website design. The Location section allows you to add your address, so visitors know where your company is based.
Community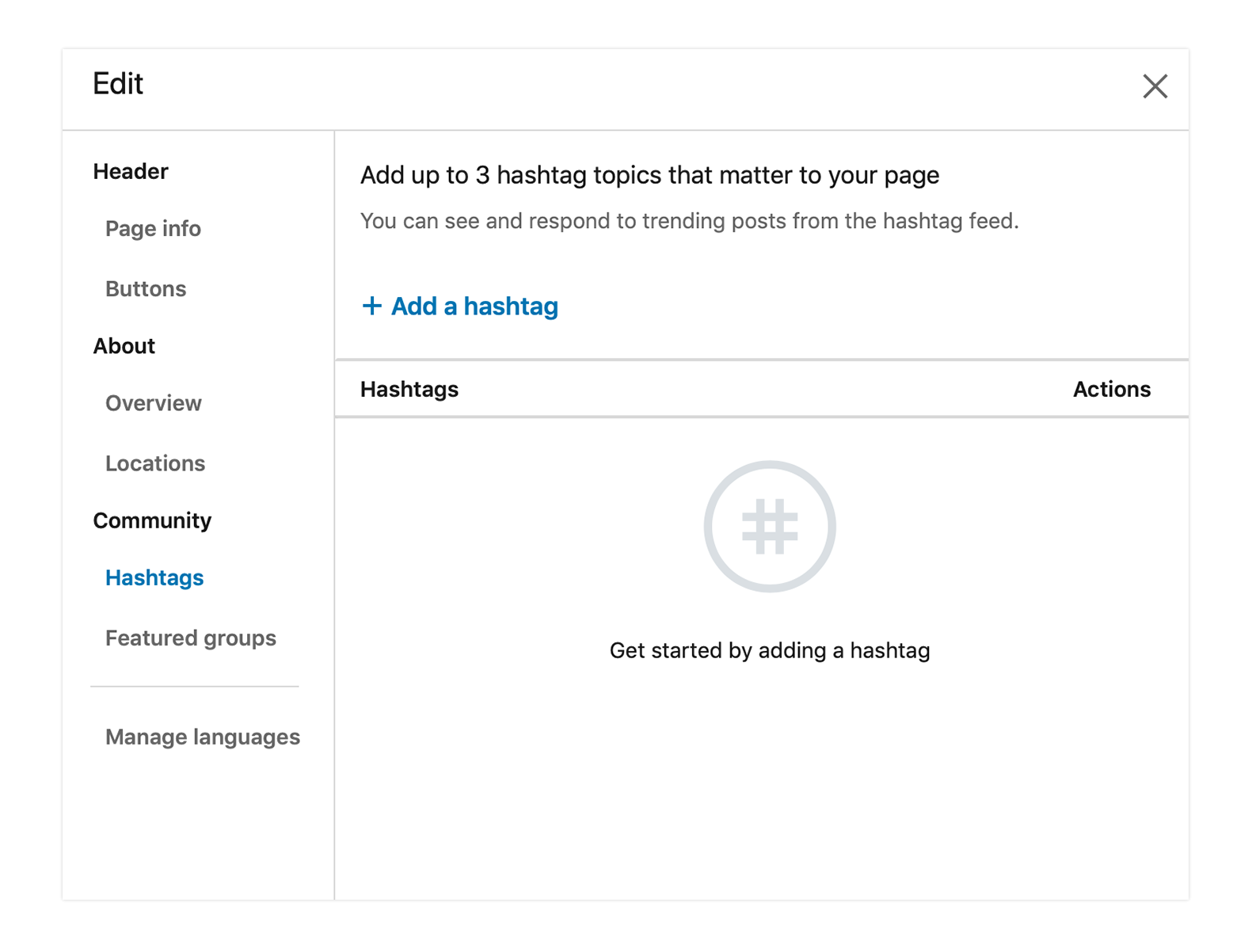 In the Community section, you can follow relevant hashtags that connect you to audiences that are talking about the topics related to your business or industry. This insight shows you applicable hashtags that you can share and engage with. By following and monitoring hashtags, you'll be able to find and join in conversations that make sense for your business, as well as create posts around those conversations.
Lastly, the Featured Groups section allows you to spotlight groups on your Page if it's a group your business created or a group your team members are active in. This is a great method for connecting individuals with similar ideals and interests. And by joining in communities that have similar interests as your own, Featured Groups allow for more advanced networking and—when used correctly—improved brand awareness for your business. We'll discuss the importance of joining groups later on.
You've established your goals, and you've set up your Page. Now it's time to create and share valuable content.

Create Applicable Content & Boost Your Presence
You want to make sure you're incorporating valuable content that your audiences will want to learn from. There are many ways to connect with others and establish your brand as a thought leader.
Post Organically
By posting organic content, you're able to build and maintain an audience that's interested in your brand—and help keep your business on your audience's radar. Understanding these best practices can assist with your organic content creation:
Use appropriate hashtags at the end of your posts, as these are searchable and will help put your content in front of the LinkedIn users who are searching or following those hashtags.
Share links back to your own website's content, such as blogs or whitepapers. This helps showcase your brand as a thought leader and encourages click-throughs to boost website traffic.
Include imagery in your posts for a visual appeal; LinkedIn's recommended image size is 1200x628.
Include video content to draw in users and add an appealing flair to your content—business executives are 65% more likely to click to a website after watching a video. It's a best practice to embed the video natively within the post instead of including a link from a hosting site like YouTube. Linked videos may include an auto play feature that deters the audience when your video ends, taking the attention away from your brand.
Keep your content distribution consistent by creating a calendar in an Excel or Google Sheet. Aim to post at least once per weekday. You want to avoid going stale on your Page, as outdated or inactive Pages may dissuade your audience from further engagement.
Incorporate Hashtags
By including hashtags in your posts, you're signifying what your content is about and categorizing it in a way for others to find—even those who do not follow you.
Best practices for hashtag usage include: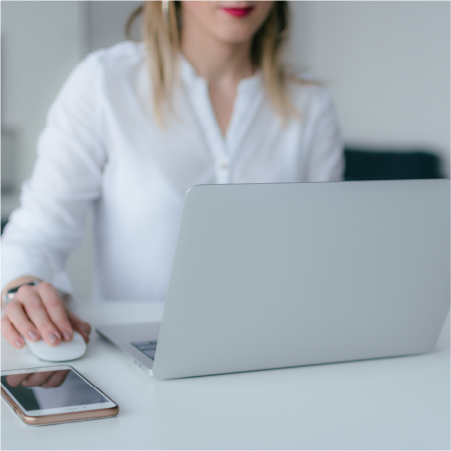 Avoid creating a hashtag for every word, as this creates a spammy appearance.
Hashtag only the words that are important and relevant to the message.
Avoid including spaces, apostrophes, commas, exclamation points or hyphens within hashtags.
Consider incorporating suggested hashtags that LinkedIn generates for you based on the topic you are posting on (if they make a good fit).
Create a branded hashtag unique to your message that audiences will recognize as your business.
Additionally, Concentrek recommends incorporating a maximum of three hashtags in your own posts to help maintain readability.
Share Third-Party Content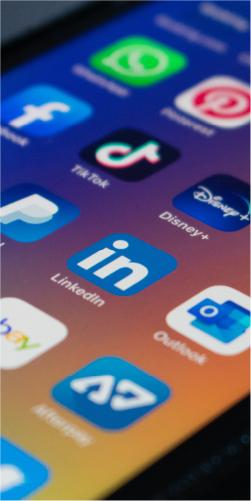 Sharing original content is beneficial for boosting your brand awareness—but not every business may have enough original content to sustain consistent posting. That's why you should also consider sharing curated content from other trusted sources that you think your audience would find value in. Examine the post's content prior to sharing to ensure it's from a reputable source; this will help give your brand more credibility and establish you as a good source for information.
Add your own unique opinion to shared content by including a personalized comment that appears above the shared post. Include a statistic, interesting comment or question to your audience to help boost engagement and provoke thoughtful conversation.
You want to be a resource for your audience—which expands beyond promoting your own business.
Encourage Employee Advocacy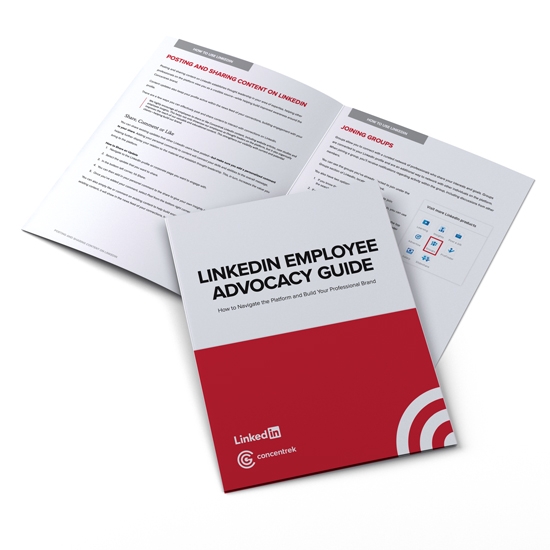 If your employees are present on LinkedIn, encouraging them to like, comment on and reshare the content you post on your Company Page can help increase its reach and offers the chance for further engagement from their network. Employees on average have 10 times a larger network than a Company Page, so incorporating their support of your Company Page's content into your marketing efforts is imperative for increasing the reach of your message.
Consider building an employee advocacy guide that offers detailed explanations on how your employees can contribute to the growth and credibility of your company.
A proper employee advocacy guide should include:
Why employee advocacy is important, including key growth metrics that proper employee advocacy can support
Your company's overarching social media policy
Recommendations on setting up an optimized personal LinkedIn profile
Insights on how employees can best utilize the social media platform for networking
Guidance on creating and sharing content, including your company's Page content
Incentives for employee participation (if applicable)
Your company's most effective advocates are your employees—but you'll need an internal champion to help get everyone on board and implement your guide. Your champion should have extensive knowledge about LinkedIn, including how to properly use it to improve the credibility of your brand.
Join Groups
LinkedIn groups are a great way to find and join in thoughtful discussions—and give your brand some visibility. You can find reputable groups by searching for relevant keywords and filtering the search results to "groups." Encourage members of your team to join groups and be active within them to help increase your brand's reach.
Keep in mind, though, that groups should not be used to push a sales agenda. You want to offer beneficial content and engage in valuable conversation—but avoid spamming people, as this could deter them from wanting to further engage with your brand.
Utilize the Messaging Feature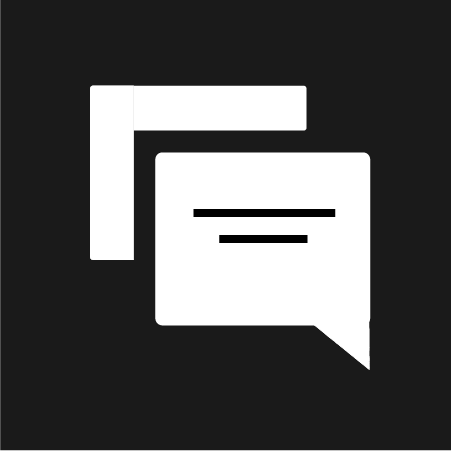 If your company is invested in networking and growing its professional image, the messaging feature helps give a name and face to your brand. Messaging creates an opportunity to network with others or recruit qualified individuals who may positively contribute to your company.
Messaging allows LinkedIn members to talk one-on-one with other users they share a first-person connection with or are in the same group with. And, you can message anyone by using InMail credits, which you can obtain if you have a LinkedIn Premium account.
Use LinkedIn messaging to provide people with educational opportunities but remember, your goal should be to offer solutions to your audience without pushing a sales agenda—and you should prioritize their needs when messaging them.

Showcase Pages
In addition to your Company Page, LinkedIn offers a secondary place to highlight specific sub-brands, products, services or unique groups that target a niche audience.
Showcase Pages are an extension of the information on your Company Page. Also known as an "Affiliated Page," your Showcase Page highlights specific divisions of your company, providing deeper insight and offering a space for the right audiences to connect and engage.
If you're wondering whether a Showcase Page makes sense for your business, take a look at some of the types of Showcase Pages.
Product or Service: Market a specific product or service your brand offers and help curate a community of likeminded individuals and qualified consumers
Events: Promote events, such as workshops, annual conferences or seminars and keep all of the information related to the event in one place
Sub-Brand: Create a niche space for sub-brands that support the parent company and promote to a unique audience
Marketplace: Bring together people in a defined market, industry or job role to share—and offer an environment to curate productive conversations
Initiatives: Support your charity or non-profit efforts or regularly participate in volunteer initiatives
Keep in mind that creating a Showcase Page is equivalent to having another social page that you'll need to run with consistent effort. That means you'll need someone with the capacity to create social posts, monitor activity and engage with users on a regular basis.

Further Achieve Your Goals with Additional Resources
For businesses that are consistently hiring or have the goal of increasing networking efforts, investing in a Career Page provides a useful add-on feature. Career Pages are set up to demonstrate the core values of your business while attracting the best-fit prospects that could positively contribute to company growth. The Career Page consists of two tabs, and each has its own benefits, including in-depth networking, recruitment, brand awareness and brand advocacy.

Life and Jobs Tabs
The Life tab gives you the opportunity to showcase your company's unique culture, and the Jobs tab offers a place to display current job positions available with your company.
Some key features of these sections include the ability to:
Use image and video to visually express what your business is all about by showing your office space, volunteer efforts or out-of-office excursions
Showcase up to four employees from your organization, including their titles and a link to their personal LinkedIn profile
Display employee testimonials and perspectives by sharing articles or related work that your employees have published on LinkedIn
Highlight current employment opportunities with your business
Create job alerts for newly posted positions, so your audience will know exactly when a new position becomes available
You want potential employees to understand your business before taking the step in applying to join your cause. Purchasing a Career Page offers space to share your story, exhibit company culture and showcase the latest job opportunities with your company.

Start Optimizing Your LinkedIn Page
Now that you know how to successfully create and operate your LinkedIn Page, it's time to get to work. Remember, your social presence is what you make of it. Connect and engage with others, post and share relevant content and become a resource for your target audience to benefit from—and you'll be setting your business up for long-term success.

Ready to Boost Your LinkedIn Presence?
Interested in working with an expert content marketing team to expand your business' LinkedIn presence? Contact us today.