With 2.8 billion monthly active users, Facebook is unmatched in terms of audience reach potential. Still not convinced Facebook is important to leverage, though? Consider these insights from Hootsuite about the social network:
Facebook reaches 59 percent of the world's social networking population
Facebook is the world's third-most visited website behind Google and YouTube 
Facebook is the second-most downloaded app
Facebook has an advertising audience of 2.14 billion people
An average Facebook user clicks on 12 ads per month
Companies that are using Facebook can gain a competitive advantage by investing time in understanding the latest trends in both organic and paid. Fortunately, members of our team were privileged to virtually attend the Social Media Marketing Workshops 2021 presented by Social Media Examiner, which gave our team a valuable look at the latest Facebook insights.
In this article, we'll discuss how to improve your organic marketing, create persuasive ads and test for success.

How to Plan for Success
Prior to creating any sort of content for your Facebook Page, you need to understand your audience and what it is they want from you. Without this context, your success on the platform could suffer. The first step is researching your audience to understand who you're trying to reach.
Research Your Audience
Researching and defining who your target audience is will help your content see more success. Keep these questions in mind when conducting your research:
Which age group am I trying to reach?
What is my audience interested in?
Where is my audience geographically located?
How does my audience receive their information?
Defining your responses to the above can help narrow down your audience and ensure that your content is seen by the right people.
Establish Your Goals
It's important to establish your goals before you start creating organic content. When formulating your goals, always use the SMART acronym:
Specific to what you want to accomplish
Measurable so that you can track any progress
Attainable within a realistic setting
Relevant to your other business goals
Time-bound that prioritizes task completion
Following the SMART pattern can help you set realistic, attainable goals within a specified timeframe. From here, you can begin to create an effective organic content strategy.

How to Improve Your Organic Marketing
Developing an organic strategy for Facebook is critical to your brand's success and should be prioritized before running paid advertisements on the platform.
Mari Smith, owner of Mari Smith International and world-renowned Facebook trainer, says you need to start with the right foundation. You must aim to build trust and loyalty—and really become the go-to source for your audience prior to advertising on the platform. Look to create content that engages and nurtures customers until they're ready to make a purchasing decision and in return, you'll start to see results.   
Vary Your Content Formats
Creating engaging content is key to building your organic presence, and Mari Smith identifies the order of frequency of usage for different content types as:
Images (70.3 percent)
Native video (17.3 percent)
Links (8.8 percent)
Standard posts with no imagery (2.9 percent)
Facebook Live videos (0.8 percent)
While some content types are more widely used than others, it doesn't mean that they're more engaged with. For example, Live video isn't currently being prioritized by companies, even though it has 6x more engagement compared to native video. Now's the chance to take advantage of this and build a strategy around Live video. Best practices for creating Live video include:
Promote your Live event beforehand
Ensure a strong Wi-Fi connection
Engage with your audience in real time during the Live video
Broadcast for longer durations to provide strong value to your audience
Save the Live video for future usages 
By creating a strategy that incorporates Live video, your business can hold an advantage over the competition and see more engagement with your content.
Aside from Live video, look to publish content that is highly relevant to your audience, which will increase the probability that they'll share it with their own networks. This, in turn, results in a higher organic reach and the opportunity to grow your audience. 
Content + Engagement + Conversions = Results
Include a Call-to-Action
It's also important to include a call-to-action with any of your content. Think back to your goals—what is it that you're trying to achieve with your content? Whether you want to encourage your audience to click to learn more about a certain topic or have them sign up for a product demo, remember to always include a call-to-action in your content.
Incorporate Hashtags
Mari Smith also recommends including a hashtag within your posts to increase engagement, as well as increase your following. We recommend researching relevant hashtags through the Facebook search bar to see how often they're being used in similar posts.
Best practices for hashtag usage on Facebook include:
Avoid punctuation
Avoid spaces
Use between 1 to 3 hashtags per post
Incorporate hashtags within the post copy 

How to Create Persuasive Facebook Ads
Once you have mastered the organic side of Facebook, it's time to start developing and deploying a paid strategy—and it starts with knowing how to reach your target audience.
Optimizing Your Ad Targeting
If you're struggling to reach your target audience, consider revisiting how you're trying to interact with them. Facebook has detailed targeting options that make it easy to drilldown who you're trying to reach with your ads:
Core Audiences
Custom Audiences
Lookalike Audiences
Each offers distinct benefits depending on what your company is trying to achieve. By understanding each of their differences, you can further target your ad deliveries.
How We Did It
As a longtime partner with Spicer Parts, we worked with the company to create an ad campaign for a special spring axle giveaway. By utilizing Facebook's audience targeting, we were able to easily reach who we wanted by selecting a wide variety of audience interests including trail riding, Jeeps and off-road racing.
As a result, we saw almost 5,500 link clicks in a three-day time span and achieved a cost per result of $0.09.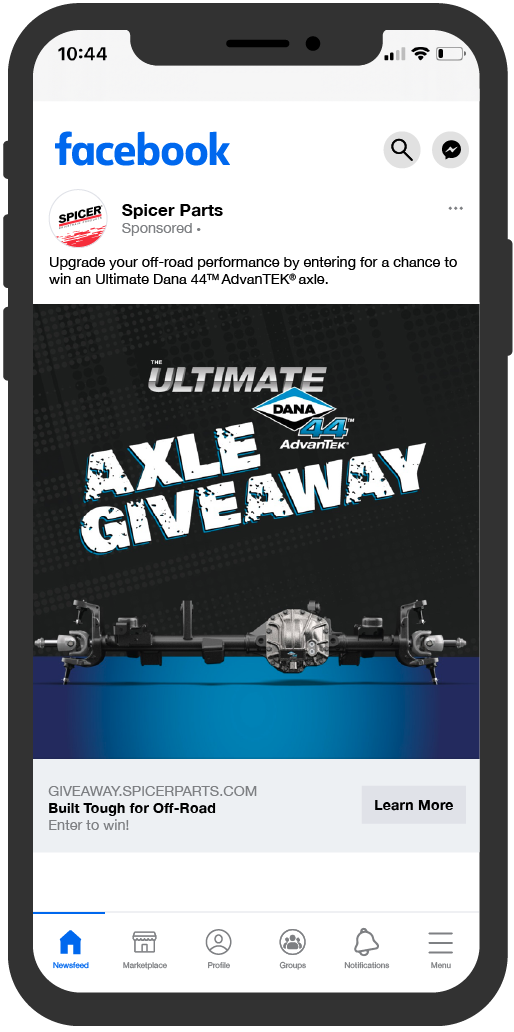 Core Audiences are based on criteria like age, interests or geography. With Core Audiences, you set your own parameters, as your audience can be as broad or well-defined as you like. Utilize the following criteria for describing your audience:
Location: Advertise in the cities, communities and countries where you want to do business
Behavior: Target your ads based on consumer behaviors, including purchase and device usage
Demographics: Choose your audience based on age, gender, education or job title; you can keep track of your audience's profile, but Facebook will never give away a user's name
Connections: Choose to include people who are connected to your Facebook Page or event or exclude them to find new audiences
Interests: Add interests and hobbies of the people you want your ad to reach—from organic food to action movies—and make your targeted ads more relevant
With Custom Audiences, you can reach prospects who already know your business—whether they're established customers, they've used your app or they've visited your website in the past. Facebook allows you to integrate your CRM information or any email lists that you may have set up, and you can use these assets to target prospects with knowledge of your brand. Facebook also allows you to set up what's called a "Pixel," which enables you to target users who specifically visited your website.
Facebook's newest edition to audience targeting is Lookalike Audiences. With this feature, you can reach new people who are similar to your current customers. To start, you'll need to create a source audience of people you know and then Facebook will target users with similar common interests and traits. If you're looking for an efficient solution to reaching a new audience, we'd recommend giving this targeting option a chance.
After you know how to reach your audience, it's time to start developing the creative elements of the ad.
Creating Ad Copy and Imagery
According to Tara Zirker, founder and CEO of Successful Ads Club, there are two things you need to consider when it comes to creating persuasive Facebook ads:
You want ads that are going to work for your audience
You want ads that are going to work for the Facebook algorithm
Note that mobile users spend approximately 1.7 seconds browsing an individual post,so make sure you create an ad that grabs a user's attention and stops them from scrolling.
-Facebook
When creating your ad, the ad copy and imagery are critical for its success. To make a great image for an ad, make sure to:
Use a high-quality photo
Showcase your product or service in the image
Avoid too much image copy (less than 20 percent text on an image)
Give the image a clear focus
For the ad copy, Tara Zirker has three primary suggestions:
Avoid too much you/your.
It's okay to personalize an ad, but too much personalization crosses a line. Additionally, the Facebook algorithm could disapprove your ad for unfair targeting that discriminates against other users—which would delay any paid campaigns. Consider the example below on how you can avoid targeting users too directly:
Before: Are you ready to really grow your business with Facebook ads?
After: Free training on how top businesses use advertising to shortcut growth.
Avoid money talk.
Money can be a sensitive topic for some consumers—and if you're constantly including it into your ad copy, consumers will start to consider other options. Facebook also restricts ads that discuss certain financial topics such as credit card applications and financial assistance. Consider adjusting like in the example below:
Before: Growing a bigger business is all about money mindset.
After: Growing a bigger business is all about an abundance mindset.
Reframe sensitive topics or phrases.
Aside from being inappropriate in general, certain topics can be flagged by Facebook—resulting in your ad being rejected. Sensitive topics and phrases to avoid include:
Weight loss
Relationships
Death
Money
Alcohol
Religion
Race
Curse words
Rather than pointing out the topic or phrase directly, consider working around it like in the example shown below.
Before: Are you ready to get rid of those last 5 pounds?
After: Join our free Pilates challenge. Feel fit and fabulous in just 10 minutes a day.
In addition to these steps, remember to make your value proposition and call-to-action clear. Each ad that you create should encourage people to want to learn more.
Be sure to include a link to landing page that continues the message being advertised. An effective landing page can produce more leads and ultimately lead to more sales—but remember that it all starts with getting users to click on your ad.
Testing Your Facebook Ads
Now that you know how to create a persuasive ad, it's time to learn how to test your ad creative and how to optimize it. It's important to understand that not every ad is guaranteed success and experimenting with different ad creative is worth the investment. Allie Bloyd, owner of Allie Bloyd Media, recommends running an A/B test to see which ad creative works best.
An A/B test allows you to change variables such as your ad creative, audience or desired ad placement. It's important to know what you're comparing, whether that's the ad copy or imagery. Consider testing short-, medium- or long-form copy and test out different images; however, it's important to note that you should only change one variable at a time, as this better indicates which portion of the ad wasn't performing. We recommend letting each ad run around a month to help gauge your results.

How to Measure Your Success on Facebook
Analyzing your content is just as important as creating it. Metrics analysis provides strong insights on how your organic and paid content are performing—and by performing annual analysis, you'll start to understand which content matters the most to your audience.
Analyzing Organic Content
Measuring organic content differs from measuring paid ads in the fact that you ideally just want to see your organic metrics continually increase. To measure these metrics efficiently, start with a base number prior to creating any organic content. We recommend waiting at least a month prior to checking back, as this gives your content enough time to perform. After a month, analyze your results through Facebook Insights, which is Facebook's analytic tool.
Within Facebook Insights you can analyze metric such as:
Reach
Link clicks
Post engagement
Page views
Page likes
Each of these metrics tie into your overall traffic, leads and sales. Everything else is considered a vanity metric—or metrics that look good but don't exactly help you measure your ROI. It'll be important to continually document your results and create an overarching metrics report. Be sure to pay attention to the success of various topics to see what resonates best with your audience.
Remember, the success of your organic content relies on understanding what your audience needs and how you can provide a solution for them.
Analyzing Paid Ads
After each ad campaign is complete, you should prioritize analyzing its performance metrics. Conducting analysis of your ads can help future ads perform better, as you're able to identify which ad variables worked and which need improvement. Facebook makes it easy to analyze your ads through its Business Manager feature. Within this platform, you can measure an ad's performance through metrics like:
Link clicks
Click-through rate
Reach
Cost-per-click
Return on advertising spend
We recommend occasionally checking in on your campaign and then conducting a full audit once it has ended. Take what you've learned from each audit and be sure to apply that to your next ad campaign.

Wrapping it Up
Facebook will continue to be a key player in the world of social media—and with the knowledge we gained at the Social Media Marketing Workshops 2021, we will continue to incorporate the latest trends and insights into our Facebook marketing.

Take the Next Step
Ready to work with a team that's trained on the latest trends in Facebook marketing? Reach out to us today.