Personal and individual communication is valuable but is often forgotten in this technology-focused world, and trade shows provide an opportunity for you to connect face-to-face with current and potential clients.
A Content Marketing Institute survey reported that 75% of people believe that in-person marketing events are effective.
These events are an occasion for brands to market their products and services in-person. Making yourself stand out, however, involves a lot of planning and strategic preparation. There's booth design, networking and the actual show to think about—help your business attract attention with our advice on optimizing your trade show presence.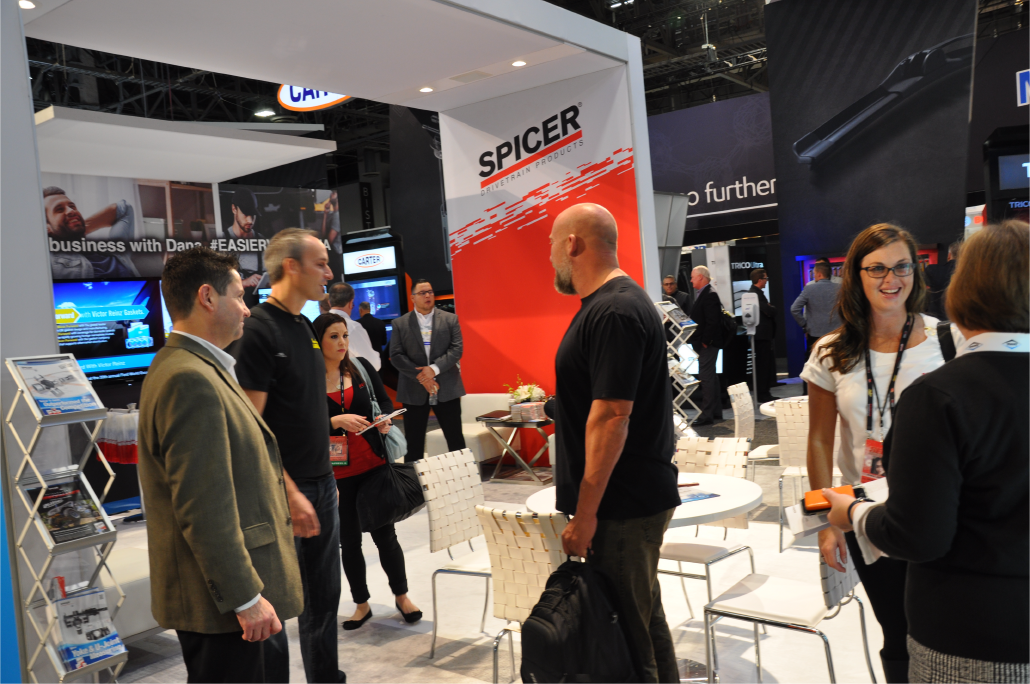 Spread the Word Beforehand
Early preparation is key to optimizing your time at a trade show. The work starts months before the actual event. It's true what they say—you get out of it what you put into it. 
Letting people know about your upcoming participation at a trade show is a great way to generate buzz about your brand. Reach out to relevant customers from the attendee list before the show with personalized emails and invite them individually to your booth. The attendees have the power to invest in your brand, so make sure they feel special and noticed. You could even set up meetings ahead of time to ensure that they stop by your booth.
Direct mail is also a good method to use when reaching out to current and prospective customers. These personal invitations can be used to invite people to an event such as a dinner or lunch held by your company before, during or after the trade show. Your prospects will feel welcomed—which could be the motivation that converts them to customers. 
Generate curiosity about your participation and highlight new developments through regular social media posts. This publicity not only creates interest but also promotes your presence at the show. Make sure to note your booth number so interested customers can easily find you the day of.
Booth Design
First impressions are important when it comes to trade show displays. Well-executed display elements are crucial to attracting customers. When you start to think about booth design, make sure to have a goal in mind, whether it's generating leads, increasing sales or just general brand exposure.
Your booth should prominently feature your logo so people can spot it easily. On the same note, a well-displayed tagline can go a long way in helping potential customers who are unfamiliar with your brand in understanding your mission. Tell people what you do before they even engage in a conversation with you.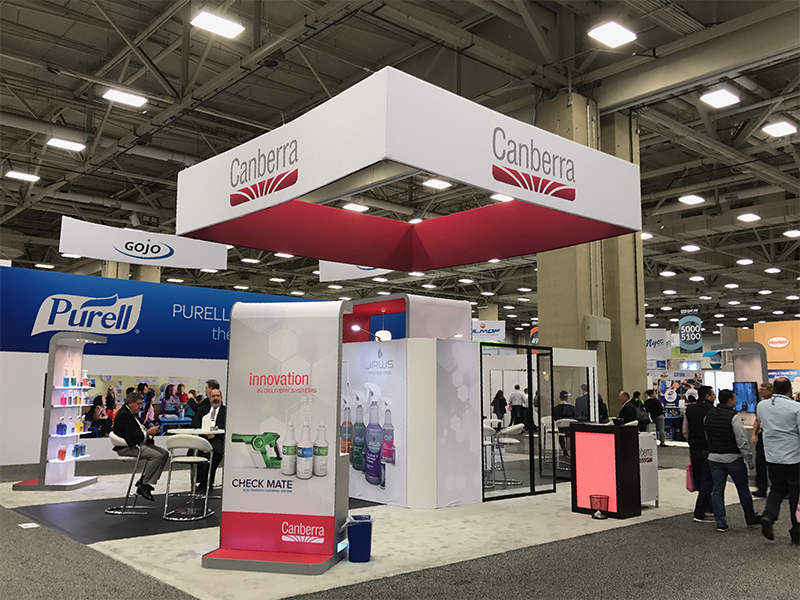 Your graphics should be impactful, almost like a billboard. Let your booth focus on a few powerful images rather than bombarding people with a diversity of graphics and text. Remember to use your style guide to create complementary marketing materials to distribute at the show. 
A display monitor with customized video content can help to grab potential customers' attention. When we worked with Sonendo® to design their booth for the American Association of Endodontics' (AAE) annual meeting, we incorporated KONVERT™ TV, helping Sonendo to better showcase the GentleWave® Procedure.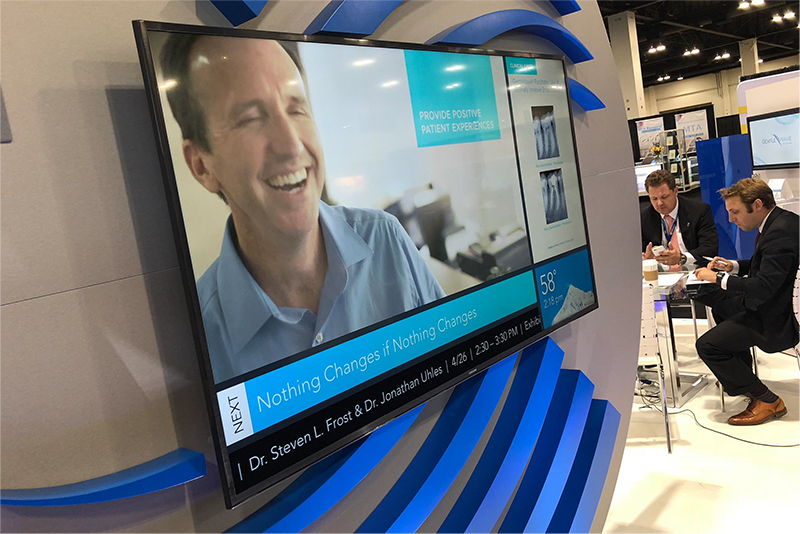 We used a mix of video content and static images and provided different types of subject matter for prospects to watch while in the booth to help promote a variety of content for Sonendo. This content ranged from results-based information that shows the efficacy of their product and testimonials from current customers to in-depth technical videos about their technology.
In general, having a monitor in your booth provides a great place to provide more detail about your products and services, which allows you to keep your booth graphics clean and simple.
Find Ways to Stand Out
Everyone goes to a trade show hoping to make connections and generate new leads. Since many of your competitors will be there with goals identical to yours, finding a way to stand out from the crowd is essential. This will help you achieve your objectives, as well as make your company memorable after the show.
Schedule demonstrations to generate excitement around your booth. Not only will it draw crowds, but it might help secure a few leads who were unsure of how your product could benefit them before the demo. Holding raffles, contests and giveaways will also help draw attention to your booth and provide an easy way to collect contact information.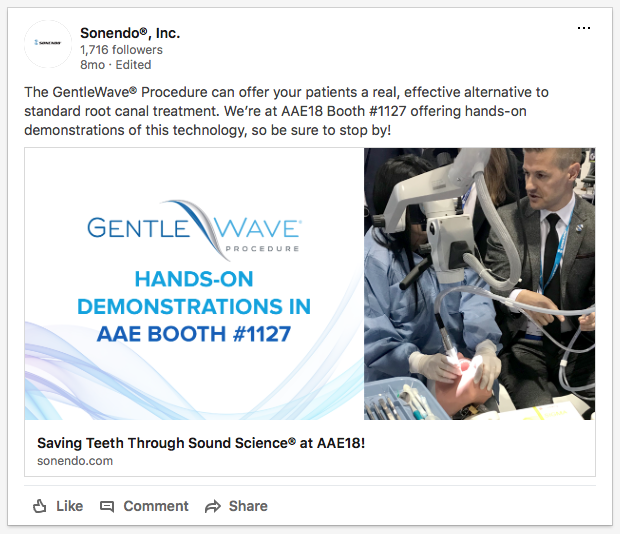 During the AAE event, Sonendo provided people who visited their booth with pens that had small USB ports in them. When plugged into the computer, these USBs displayed information on Sonendo's product, as well as general information on the company itself. Such a small takeaway item can leave a lasting impact on prospective customers—and who doesn't love free stuff?
Another good way to make a great impression is by anticipating attendees' needs. Hospitality and food can go a long way after hours on your feet! Offer seating to give people a chance to rest. Try having phone chargers and outlets for people to stop and recharge. Even if they're just there for your electronic services, they'll have to linger around your booth to watch their device, increasing your exposure. Have snacks and water readily available; the small things that attract people to your booth initially might lead to a sale later. 
Highlight in-booth and after-hours events and speakers on your website, on social media and in emails to promote yourself while at the show. Make sure to update it daily on your website so visitors only see content that's still relevant.
Utilize Your Salespeople
Do you have the right people promoting your product or service? Are they well-informed on the ins-and-outs of every facet of your business? Are they friendly and willing to start conversations with just about anyone? 
Trade shows are about marketing to people. 
You want to appear approachable and relaxed; working on trust and building relationships is more important than promoting your products. Be intentional with your marketing efforts. While you are there to create brand and product awareness, it's also important to remember to nurture the relationships with the people actually doing the buying. Face-to-face connections are so important.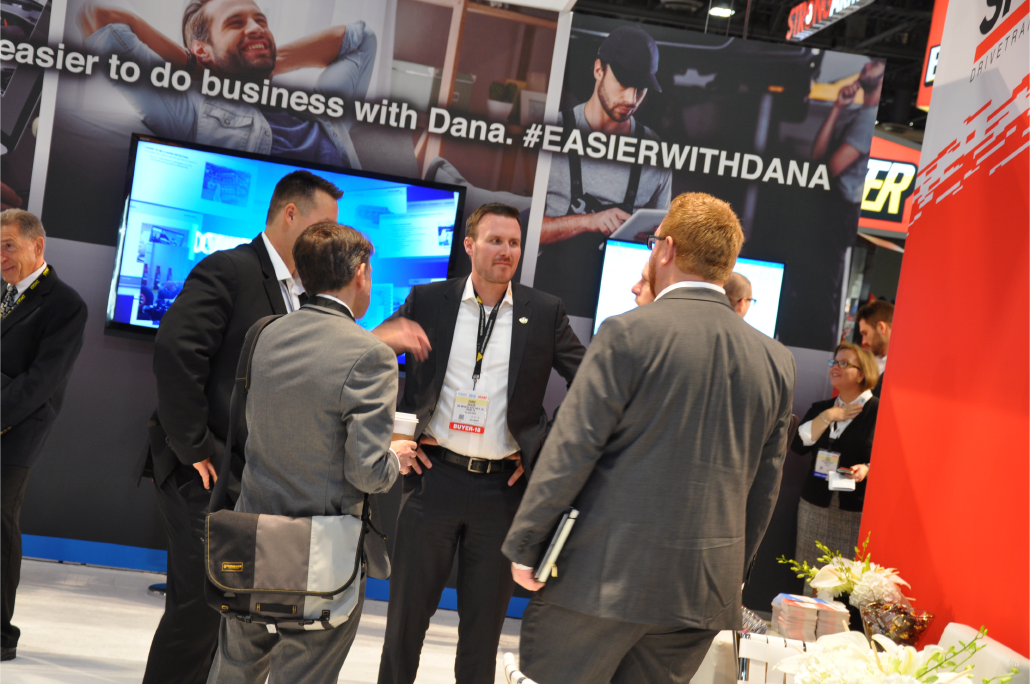 Try a mix of both social and knowledgeable staff members. Your outgoing employees can attract potential customers, while "all-knowing" staff members can step in when hard questions arise. Practice mock conversations before the show to help work out any kinks and identify harder questions that may come up. It is also vital to note that your salespeople are there to help promote your company and should be reluctant to sit down or eat while socializing with prospective clients and customers. You want your booth to be professional and welcoming rather than too casual and cluttered.
Encourage your trade show staff to engage with people just walking by. A friendly hello can go a long way in attracting attention and starting conversations, as it might be the push that a customer needs to check out your booth.
Continue Your Presence Afterwards
Follow up with leads quickly after the show. Email them within a week with a personal follow up, continuing to grow your relationship by mentioning specific points of your conversation to show that you are interested in them. If it's appropriate and you feel confident with the relationship, connect with them on LinkedIn to continue nurturing them as a connection. 
Direct mailings are also a key to keeping connected with leads after the event. Take some time to send out postcards or other mailed items. Thank everyone who attended and include a brief refresher about your company. This can make a big difference in how prospective customers view and remember your brand. Include your company's website and contact information, and encourage people to visit or connect if they have any questions.
Be sure to document your time at the show to have content to share afterward. Video content can help explain your involvement in and success at the trade show. Post about your success and enjoyment at the show on social media. By building out content, you can extend your influence from the trade show and continue to engage with followers.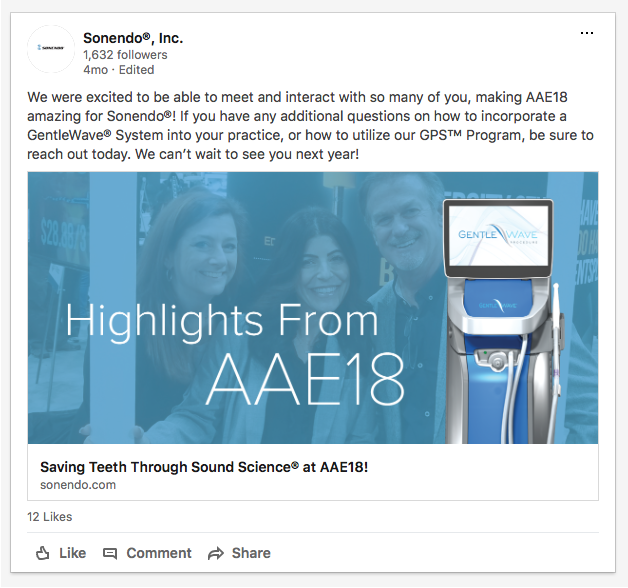 Ready to Optimize Your Booth?
While trade shows involve time and planning, they don't have to be stressful. You want to market your business better, and we want to help. Our team of marketing strategists and creative designers can help optimize your booth for the best trade show experience. Contact us today, and let's get started!