Many organizations are now prioritizing cross-functional collaboration between sales and marketing departments—and with good reason. A recent study revealed that 81% of companies that met or exceeded their revenue targets had aligned their sales and marketing teams. If your departments are still siloed, these advantages to aligning sales and marketing should help motivate your teams to partner up post-haste.
 

Improved Customer Experience
Customers will do business with brands they trust. Earning the trust of prospective customers starts with delivering on expectations and providing transparency. When sales and marketing departments aren't aligned, inconsistent messaging can give customers the perception that your business is untrustworthy. Brand messaging should always be consistent and cohesive at all points. 
90% of customers
expect consistent brand experiences across all channels and devices.
Businesswire
When sales and marketing close the communication gaps and join forces, coordinated efforts and strategies not only streamline the process for all involved, but create a more impactful customer experience — from first impression to decision. Being better informed about the customer's pain points and supporting them throughout the buying cycle gives them a great experience with your brand. In turn, this helps to build trust and foster brand loyalty with your principal prospects.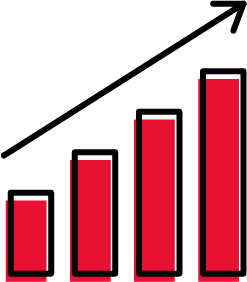 Better Insights and Data
Sharing data between sales and marketing departments ensures everyone has a comprehensive understanding of customer behavior, their preferences and purchasing patterns. Customer relationship management (CRM) systems, marketing automation platforms and data analytics tools can aid in defining buyer personas and audience segments that enable better-targeted efforts for both teams. 
With these coordinated efforts, the sales team can provide customer feedback for the marketing team to implement into sales enablement content and marketing initiatives; the marketing team can share campaign performance data, website analytics and lead sources to bolster the effectiveness of sales efforts. Synergy between sales and marketing serves to increase productivity and performance, both respectively and cooperatively.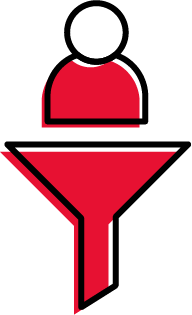 Higher-Quality Lead Generation
With better insight and data, collaborative lead-generation tactics can become much more impactful and generate higher-quality leads. Account-based marketing (ABM) is a strategic approach where sales and marketing work together to create personalized and targeted marketing efforts to engage and convert specific high-value accounts. This approach enables a level of personalization that resonates most with the targeted audience, which consists of the accounts most likely to convert — and with the highest revenue potential.
1 in 5 accounts
targeted through ABM becomes a qualified sales opportunity.
Hubspot


Accelerated Revenue Growth
The bottom line is this: when sales and marketing team up, the potential for revenue growth is amplified. Sharing resources and even working within the same budget helps to streamline processes and reduce inefficiencies and waste, but also enables a prioritized, organized effort from sales and marketing to work in tandem toward capturing quality leads and converting them into customers.
A recent study revealed that leads nurtured by an organization with strong marketing-sales alignment spent
47% more than those purchasing on their own.
LXAHub
Taking the Next Step 
Concentrek collaborates with sales and marketing teams across the country to create lead generation and sales enablement content that grows businesses. Let us help guide you to success, from concept to conversion.