Are you aware that companies that post weekly on LinkedIn see a 2x higher engagement rate than those that don't post as frequently?
It's no surprise that posting on LinkedIn factors into your success on the platform, but are you doing it correctly? As the most popular B2B platform, marketers should know how to properly set up their company's Page, create organic content and produce effective ads.
With an established company Page, your business can effectively network and connect with leads, all while building a reputation as a knowledgeable and trustworthy organization.
Using LinkedIn also offers other benefits for your business, including:
Differentiating yourself from your competition
Improving your search rankings
Introducing new products or services you've developed
Building relationships with prospects and customers
Creating sharable content that benefits your audience
By understanding what you can accomplish, your company can strive for similar results—and it all starts with knowing how to create or optimize your Page.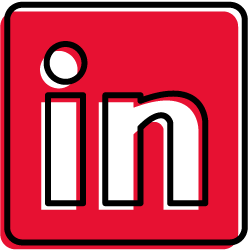 How to Create or Optimize Your Company's Page
Your company's Page can speak volumes about who you are as a company; therefore, your goal should be to come off as trustworthy and approachable to consumers. Michaela Alexis, LinkedIn trainer and coach, breaks down how you can start to optimize your Page.
Step One: Update or Create Your Profile Image and Banner
Your profile image is the first thing a user notices when encountering your Page, so it's important to make a good first impression. We recommend resizing your logo to fit within LinkedIn's specs and then uploading it to your profile.
As for your banner image, you have a bit more room for creativity and can choose to promote current initiatives, address special events or highlight a new product. Whatever the case is, you have the option to change your cover image as much as you like; just be sure to match LinkedIn's specs for this, as well.
Step Two: Write Your Headline and 'About' Section
Your profile image can catch a consumer's attention, but a well-crafted headline and 'About' section can really reel them in. Michaela Alexis states that your headline should speak directly to your ideal audience. Get specific about what your business is offering and who you directly serve. For example, a tech company that sells B2B software should directly state this in its headline.
Michaela Alexis also mentions that you should focus more on connecting with prospects rather than impressing them. Ensure that you focus on your value-add rather than how many followers or awards your business has.
Your 'About' section differs from your headline because you have more space to describe what your business offers and are essentially opening the door to any user who visits your profile. In this section, you should go into more detail on:
Who you are
Why you do what you do
What you have to offer
How to get in touch
What your values are
Remember, LinkedIn is a professional space, so be sure to keep your headline and 'About' sections focused on your core business.
Pro tip: Include a gift of sorts in your 'About' section. This could include a promotional offer, learning course or other gifta
so will your follower and email list.
– MICHAELA ALEXIS
Step Three: Fill Out the Rest of Your Page
After you complete your headline and 'About' sections, you're just about done creating or optimizing your profile. Other information you should look to add to your Page includes:
Your website URL
Company address
Hashtags that are relevant to your Page
The industry your company is associated with
Company size
It's important to fill out your entire profile, as business Pages that are fully complete get 30 percent more views than those that aren't. Take the time upfront to fill out every Page detail, even those that you may think aren't important.
Once your Page is complete, it's time to start creating content to engage, inform and market to your audience.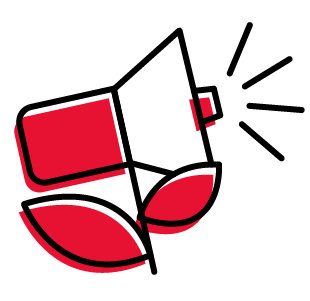 How to Create Organic Content on LinkedIn
Did you know that 96 percent of B2B marketers use LinkedIn for organic content distribution and 83 percent for paid social? This makes it the most-used platform for both content distribution types.
It's pretty clear that if you're a B2B company, you need to be on LinkedIn. With over 660 million users on the platform, your opportunity to connect with new prospects is endless—but how do you create irresistible content that users want to engage with? Michaela Alexis detailed out multiple content formats that your business can leverage, starting with basic text and image posts.
Text and Image
An engaging LinkedIn post starts with writing compelling copy. You'll want to hook your audience in the first one to two lines and then ultimately drive them to learn more about the topic.
When writing your post copy, use these questions to help build out your messaging:
What story are you trying to tell?
What is the solution?
What is your call-to-action?
With this formula, you can begin to spark conversations with your audience and encourage them to share your content with others in their network. LinkedIn also gives you the ability to experiment with more long-form bodies of copy to really dive deep into a story; however, if you choose to go this route, you'll need to share the primary point right away, then build on it later in the post.
It's worth noting that text-only content is unlikely to engage your followers the way you want it to. You should have an eye-catching visual to support your post copy, whether it's a static image, infographic or even a GIF; however, note that whatever imagery you choose needs to relate back to your post copy. Follow LinkedIn's size guide to ensure your images are optimized.
Video
Video is a popular content format on LinkedIn; in fact, posts that include a video earn on average three times the engagement of text and image posts—so is it worth experimenting with? Absolutely!
Best practices for creating video on LinkedIn include:
Hook your audience in the first one to two seconds
Design your video for no sound
Optimize your setup, including your lighting, camera position and background
Close your video with a strong call-to-action
Leverage closed captioning
LinkedIn native videos are
five times more likely
to start a conversation among your audience members compared to other content forms.
-LINKEDIN
LinkedIn allows for both short- and long-form video content, with available video length spanning from 3 seconds to 30 minutes. We recommend experimenting with both to see what resonates better with your audience.
Events
LinkedIn events allow you to provide your audience members with opportunities to learn more about topics that interest them in real time. You can create events such as online meetups, workshops, seminars and more. Events can be an excellent tool to grow your community and network with new and existing customers.
Before an event, we recommend promoting it to help generate buzz and grow interest among audience members. This can be done through native posts that your audience can share with others or through LinkedIn Ads. You'll also need a team member to be the dedicated organizer; this person is responsible for creating the event, inviting attendees and adding one or more speakers. Note that the organizer can't be changed once the event is created.
During the event, it helps to have a dedicated team member monitoring social interactions and answering questions that users may have. If a particular question warrants a larger discussion, consider sharing it with the rest of the attendees. LinkedIn also gives you the ability to share polls during a broadcast and interact with your audience this way.
Once the event has concluded, we recommend asking for feedback from your audience, as this can help you plan for your next event. It's also important to stay connected with your attendees. Consider creating post-event materials and notifying attendees of more upcoming events.
Articles
LinkedIn allows you to publish articles just like the ones on your website. This gives users who are going through your profile direct access to long-form content that interests them.
You might be wondering what the difference is between a published article and a long-form post. LinkedIn clarifies that posts are what appear on the home page or timeline; this means users scrolling through their feed have a visual of it immediately. Articles differ in the fact that users must visit your profile to access them.
Posts can get buried quickly in feeds, so if you have an important topic you want discuss in greater detail, publishing an article and saving it to your profile can help users more easily find it.
Best practices for writing articles on LinkedIn include:
Write content that is relevant to your audience
Avoid writing directly in the LinkedIn editor; rather, copy and paste your writing from Word or another outside source
Break up larger paragraphs for readability
Utilize quotes and statistics
End with a clear call-to-action
Remember that articles are easier to access for your audience and should be used to discuss relevant topics. Your articles are also indexed on Google, so be sure to feature some of your best pieces of writing. We recommend researching keywords to include in your article to help with your reach.
Hashtags
Hashtags can be leveraged to reach more audience members natively. Similar to other social platforms, users can search relevant hashtags to them and find correlating content. You should look to utilize hashtags to establish brand credibility, reach new users who value your insights and start more meaningful conversations. LinkedIn recommends adding up to three hashtags per post to help with audience reach.
Other hashtags best practices include:
Conducting research to find relevant phrases to your brand
Creating a branded hashtag that is unique to your business
Utilizing hashtags that were created for an event you may be attending
Leveraging suggested hashtags to perhaps join a conversation relevant to your brand
Remember to avoid spaces, punctuation, special characters or other symbols in your hashtag. This can break up the hashtag and make it unsearchable, ultimately killing your potential reach.
Creating organic content on LinkedIn can help grow your audience natively, as there are several content forms to choose from; however, if you're struggling growing your audience this way, it may be time to consider leveraging LinkedIn Ads. Let's take a look at how you can begin creating persuasive ads on LinkedIn.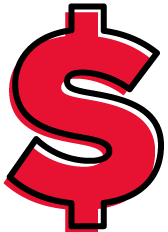 How to Create Persuasive Ads on LinkedIn
Did you know that LinkedIn's visitor-to-lead conversion rate is 2.74 percent? While that may not sound very high, it's more than 3x the amount of Facebook (0.77 percent) and Twitter (0.69 percent).
Advertising on LinkedIn can help your business achieve a number of objectives, including:
Improved brand awareness
Enhanced lead generation
Increased traffic of qualified leads to your site
Improved website conversions
According to AJ Wilcox, founder of B2Linked and host of the LinkedIn Ads Show Podcast, there are three elements needed for a successful ad campaign on LinkedIn:
A relevant audience
A quality message
An offer
Let's begin with which ad types you have to work with and then dive into other important details.
Varying Ad Types
Like organic content, there are several options at your disposal when it comes to creating ads. Let's go over different ad types and what they can do, starting with sponsored content.
Sponsored Content           
These are native ads that appear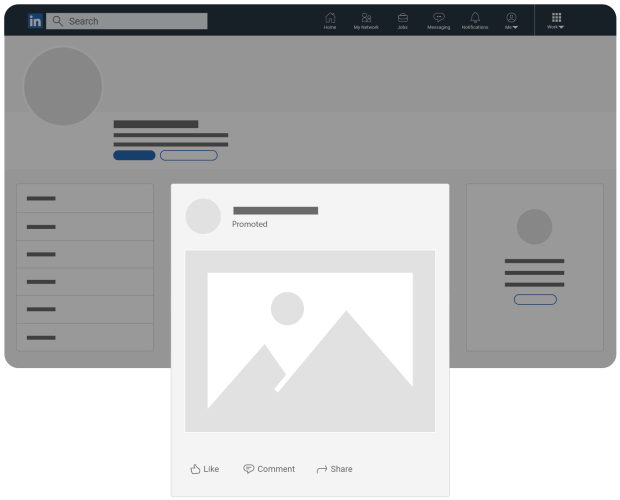 on a user's LinkedIn feed, regardless of whether they are scrolling on desktop or mobile. To help distinguish these ads from organic posts, LinkedIn labels these as "Promoted." You have the option to choose between carousel ads, single image ads or video ads when advertising with sponsored content.
Sponsored Messaging           
Have you ever received a message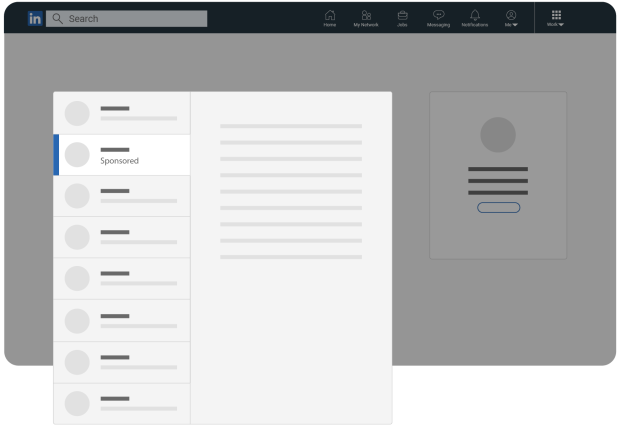 in your LinkedIn InMail about an exclusive offer or event? This is a form of sponsored messaging. With this ad option, you can directly advertise to LinkedIn members in their inbox. Note that LinkedIn has a cap on how many sponsored messages a user can receive per month, so members of your audience may not receive your ad if you choose to run multiple in a month.
Text Ads   
Text ads appear along the top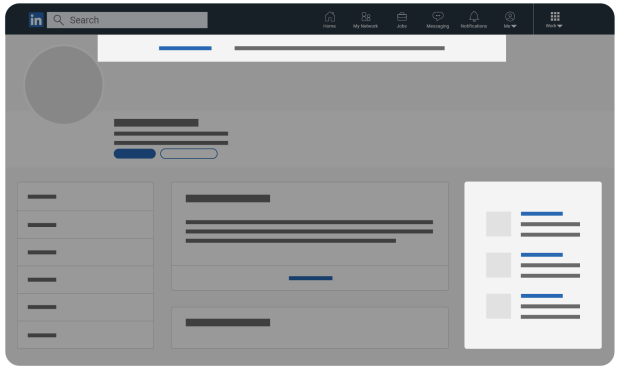 and righthand side of LinkedIn's desktop feed and can be a great way to catch a user's attention; however, the downside to this ad type is it's limited to desktop only. If you are set on using text ads, be sure to link to your website and incorporate a strong tagline.
Dynamic Ads   
Dynamic ads enable you to get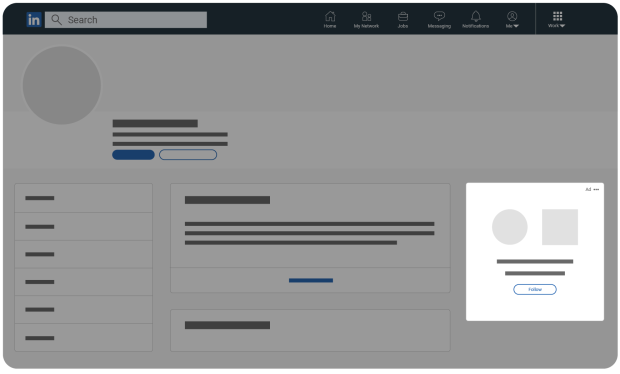 more personal with your audience members. These ads will appear on the right side of LinkedIn's desktop feed with a user's own personal details such as their profile picture, their employer's name and their job title.
Dynamic ads are divided up into two core groups: follower and spotlight ads. Follower ads can help expand your audience and acquire more followers for you company Page. Consider this ad type if you want to grow your brand awareness and promote your business's Page to new users. Spotlight ads can share thought leadership, best practices, insights and other valuable content with your audience. Leverage this ad type if you're wanting to showcase your products, services, content pieces or other valuable information.
Be sure that you take your goals into account when choosing between the two ad groups, as each can help accomplish different items.
Targeting the Right Users
LinkedIn offers a very unique targeting system that can help you reach exactly who you're intending to talk to. AJ Wilcox detailed out these targeting options:
Professional: Target users based on job title, job function, seniority level, skills or professional group
Company: Target users based which industry they're associated with, their company size and their company name
Education: Target users based on which school they attended and their degree or area of study
Demographics: Target users based on their gender, age and geographical location
If you're new to LinkedIn advertising and want help setting up your targeting, try utilizing an audience template that LinkedIn provides. Audience templates can help you target key audiences like event planners, doctors or recent college graduates without the manual step of inputting their information. This can save you time and get your ad out the door faster.
Creating Effective Ad Copy and Imagery
In an era with abundant content, it's critical to catch the eye of your target audience with high-end copy and imagery. The competition for attention of members on LinkedIn is just as fierce as on other social platforms; however, LinkedIn members are usually on a mission to find something rather than scrolling through their feed due to boredom.
Consider these best practices for writing compelling ad copy:
Have a strong headline
Keep your copy short and to the point; LinkedIn recommends around 150 characters
Include a link within your copy
Utilize numbers where applicable to grab a user's attention
End with a strong call-to-action
As for the visual component, you'll want to follow these guidelines:
Draw attention to the copy
Leverage bold colors and avoid blue, gray and white coloring when possible, as these are the colors of the platform
Abide by the LinkedIn image specs
Utilizing these best practices can help your ads stick out to audience members and result in more conversions.
Optimizing Your Ad Performance
After your ad ends, it's very important to analyze its performance and use that information to effectively adjust your strategies. LinkedIn has a built-in metrics hub where you can track items such as:
Click-through rate: A ratio showing how often users see your ad and end up clicking on it
Impressions: How often your ad appears on a user's feed
Click to landing page: How many times users click through to your landing page
Engagement rate: A ratio showing how often your ad is interacted with
Cost-per-click: How much your business is paying for a user to click on your ad
Depending on the length of you campaign, we recommend establishing a cadence for checking in on how it's performing, like once a week. Once the campaign has ended, you can begin conducting a full audit. Take what you've learned from each audit and be sure to apply that to your next ad campaign.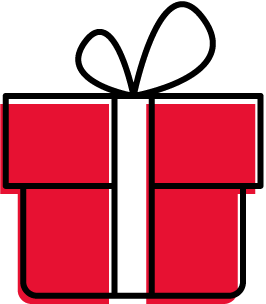 Wrapping it Up
LinkedIn remains as the top platform for B2B businesses—and with the knowledge we gained at the Social Media Marketing Workshops 2021, we will continue to incorporate the latest trends and insights into our LinkedIn marketing.

Take the Next Step
Ready to work with a team that's trained on the latest trends in LinkedIn marketing? Reach out to us today.