Search engine optimization (SEO) can be a complicated part of making your content easily accessible to your target audiences. Are you working with a search-optimized website? If not, we can help. 
Why is SEO Important?
Your website is a strong entry point for communicating with current and potential customers—and you want it to rank highly in relevant search results. That's where SEO comes in.
SEO helps your site stay highly visible to your target audiences based on how those individuals are searching. And there are a number of ways that you can optimize your site to ensure it's always performing well in search results. 
Read on to see what you should be evaluating—and take action with these items to help amplify your website's search rankings.  
Update Your Website's Backend  
Don't underestimate the importance that the backend of your website will have on search rankings. There are a few things you should do to help improve your site's search ranking: 
Focus on your website's load speed. The load speed of your website can affect how your website is indexed, as well as dictate the user experience.
Ensure your website is mobile-optimized. While this seems like an obvious one, there are still websites that aren't responsive. Having a mobile-responsive site can help improve search rankings and creates a better user experience.
Create both Google Webmaster and Bing Webmaster accounts and submit your site map to help your site be properly indexed. 
Add an SSL certificate to your website to help keep your site secure. If an SSL certificate doesn't exist, users will be alerted that the site could be unsafe—negatively affecting your site's traffic.When completing a new website for ESI, our team focused on ensuring the website's backend was built with a fully optimized structure. This included emphasizing a quick load speed, as well as implementing an SSL certificate for secured browsing. Incorporating a responsive design additionally allowed for an enhanced mobile experience, improving the overall user experience and ease of use. 
How We Did It
When completing a new website for ESI, our team focused on ensuring the website's backend was built with a fully optimized structure. This included emphasizing a quick load speed, as well as implementing an SSL certificate for secured browsing. Incorporating a responsive design additionally allowed for an enhanced mobile experience, improving the overall user experience and ease of use.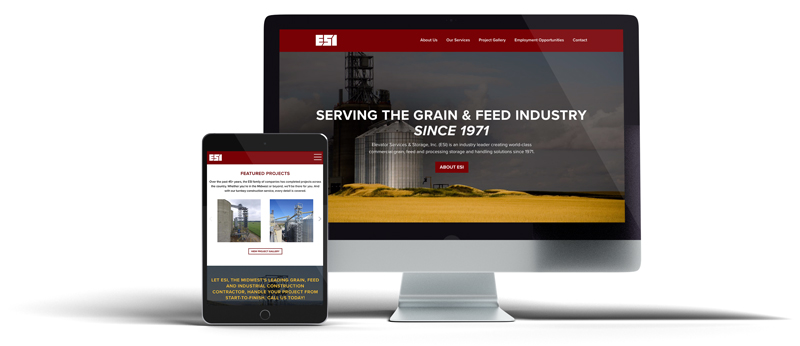 Take the time to test your website to make sure it aligns with the above. And if it isn't, recognize the importance of investing in your website to get it there. After all, if your website's backend isn't set up well, your search rankings will fall short of where you want to be. 
Organize Your Website's Page Structure
How each of your website pages is built is key in search performance, and there are a number of areas you'll want to properly set up to help your website rank well. 
Titles
Accurately describing the page's content by using a title that correctly represents it will help users and search engines know what each page is. Make sure that every page on your website has a unique title. 
Meta Data
The meta data for your website page gives search engines a summary of what the page is about. While meta data doesn't directly affect rank, it does help users make more informed decisions on accessing specific pages based on the provided descriptions. And the more traffic a page gets, the more likely it is to rank highly in searches. You'll also want to incorporate keywords here, which we discuss in more detail later in this article.  
Open Graph 
While open graph tags don't directly impact SEO, they do influence how well your content will perform on social media. And since social media sites tend to be a primary source for website traffic, this makes it important that your open graph tags are properly inputted. 
How We Did It
When updating Metzger's website, we worked to ensure the backend was set up correctly for optimized search results and user experience. This included implementing accurate meta data for a thorough summary of each page's content, as well as open graph details to help with improved social sharing.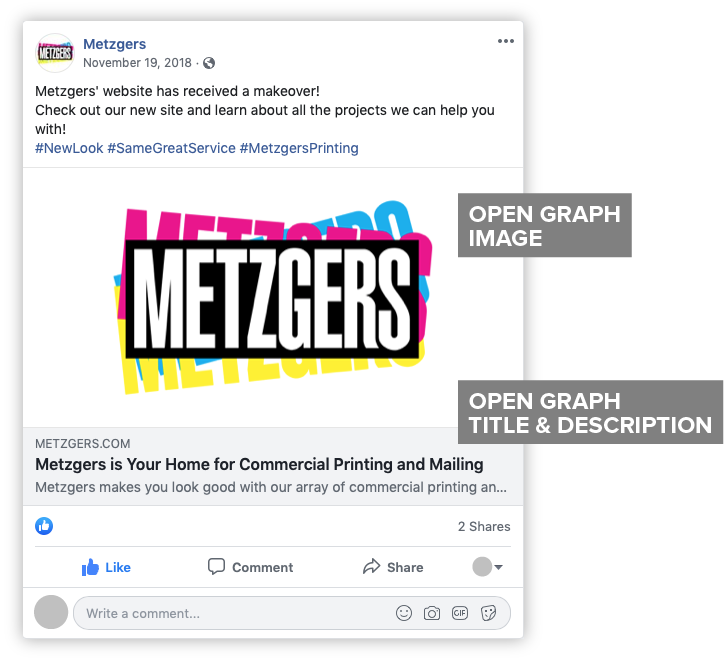 Heading Tags
Heading tags allow you to make certain text larger than the body text, giving your readers an understanding of the importance of that portion of the content. Use multiple heading sizes to help your readers understand the hierarchy of the page, creating an easier user experience. 
Structure
You should incorporate structured data into your website's pages to help search engines know what's on each specific page. When search engines better understand a web page's content through structured data, it allows them to more accurately display matching results based on those structured search terms. Structured data can also allow certain types of content to display in a graphical search result, such as a news article or recipe. 
URL
Don't just accept the default URL that is created when you input your content into the CMS. Avoid generic naming and customize the URL to accurately align with the page's content. 
Alt Tags
Your website's images can play a big part in search. Incorporate the "alt" attribute (alternative text for an image) to identify exactly what the image is, which helps your audience understand the content—even if the image isn't displaying correctly.  
Just like it's important to invest in correcting the backend of your website, it's important that you take the time to review all of your website's pages to identify any weaknesses that may be affecting SEO. 
Properly Incorporate Keywords 
Keywords are words and phrases that define what your content is about, and they're imperative for connecting what people are searching for with the content you've created. By incorporating keywords into your content, you'll be able to help drive increased traffic to your website—curating an audience that is searching for exactly what you're offering. 
Complete Keyword Research 
Keyword research is a strong starting point in understanding what your target audience is searching for, allowing you to optimize your content to be the answer that they need.
When determining which keywords to use, it's important to understand how a person would search for a certain topic—the intent behind the search is the most important aspect of keyword research. You'll need to understand the language a searcher will be using, which is insight you can gain by talking to your customers or doing your primary research through an online tool, like SEMRush.
After completing your keyword research, determine one primary keyword that you want to focus on for your specific website page. The primary keyword should be the focus; however, you'll also want to determine secondary keywords that you can use throughout the page's content to further help improve search rankings.
Naturally Incorporate Keywords  
It's important that you don't just add keywords to your website at random. Rather, keywords should be incorporated with engaging and informative content that will benefit your audience. According to Moz, a leading resource on SEO, "creating compelling content is about providing real value for real people." You want to make sure that any content you create provides benefit—but is also set up properly. 
You should ensure that the primary keyword you've selected is used in the:
Page title
Page URL
First paragraph
At least one subhead
Meta title
Meta description
Image alt tag 
You'll also want to naturally use the primary keyword and any secondary keywords throughout the page's text content, avoiding keyword stuffing. 
How We Did It
When building content for the GentleWave® Procedure's website, we work to ensure that it's optimized for search rankings, utilizing search-friendly meta data and incorporating rich keywords within the headers and copy. All of the keywords we incorporate come from thorough research utilizing keyword ranking tools and other resources that help drive our strategy. This has resulted in gentlewave.com ranking for nearly 2,000 keywords—and appearing on the first page of Google search results for 288 of those keywords. Now, when people are searching for terms relevant to the GentleWave Procedure, gentlewave.com will show prominently in the search results.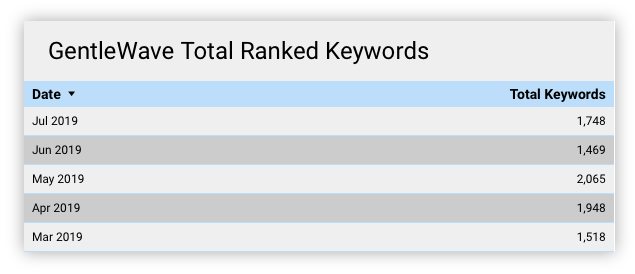 Avoid Keyword Cannibalization
When too many pages are optimized for the same keyword, your website could experience keyword cannibalization.
If Google crawls a website and discovers multiple pages utilizing the same keyword, it will have to prioritize which page is considered most relevant. This can cause conflict within your website over which page will be ranked highest—and can cause your own website pages to compete against each other.  
Avoid running into issues with this by developing a long-term content plan. This will help ensure that as your team moves forward with content planning, keywords will be distributed properly across your website. 
Recognize the Importance of Links 
Are you properly incorporating links into your website content? This can be a factor in how well your site performs when it comes to search but is often overlooked. Take a look below and audit your site to determine if it's aligning with best practices. 
Fix Broken Links
If your page is filled with links that don't work or generate an error message, you'll see a negative impact on your SEO. Double-check pages regularly to make sure that all links are functioning properly and offering your users the experience they want. 
Incorporate Links Within Page Content 
Internal links are when one page of your website links to another page on your website. They drive users from one piece of content to another, helping increase time on the website—which can ultimately improve user experience and improve search rankings.  
It's not enough to just incorporate internal linking on your website pages, though. You can add value to the content you're providing by linking out to relevant sources that can benefit your audience's experience. 
Note, however, that the sources that you link to on your website can affect your SEO if they aren't reputable sources. When choosing sources, always select high-quality, secure websites that won't affect your website's reputation. 
Additionally, you'll want to ensure that outbound links are set to open in a new window, as it helps keep your visitors on your page. 
Limit Your Redirects
Having too many redirects set up on your site can also negatively impact SEO, so avoid having too many pages redirecting to other pages. Instead, replace them with direct links. If you do need to set up redirects, though, you'll want to configure a "301" permanent redirect versus a "302" temporary redirect. 
Work Toward Attracting Backlinks
One of the best ways to establish your site's authority is to be linked to from reputable websites. But, like with external linking, you want to make sure the sites pointing toward your content are high quality. After all, the websites that are referencing your content play a large part in the reputation of your site in search. You can check your backlink status through a variety of online tools, helping direct where you need to clean up your website.  
Try Long-Form Content
While word count itself doesn't directly influence SEO rankings, long-form content does offer the ability to improve organic search rankings. In fact, long-form content gets an average of 77.2 percent more links than short articles, making it ideal for backlink acquisition. This, in turn, helps boost your page's ranking, as it improves the authority of the page. 
Additionally, longer content was found to receive more social shares than shorter content, helping improve its visibility. 
Don't only focus on long-form content, though. Write as much is needed to fully cover the subject—but, if you're able to get your point across and share the necessary information in fewer words, do so. It's more beneficial to provide quality content than add fluff to build up your word count. 
How We Did It
When developing blog content for the GentleWave® Procedure, we vary the length and format of the content. Through keyword research and consumer preference insights, we ensure that the topics that are highly searched are emphasized in the long-form content to provide more thorough resources for potential patients. This helps not only drive increased traffic to gentlewave.com but also helps position the website as a valuable resource.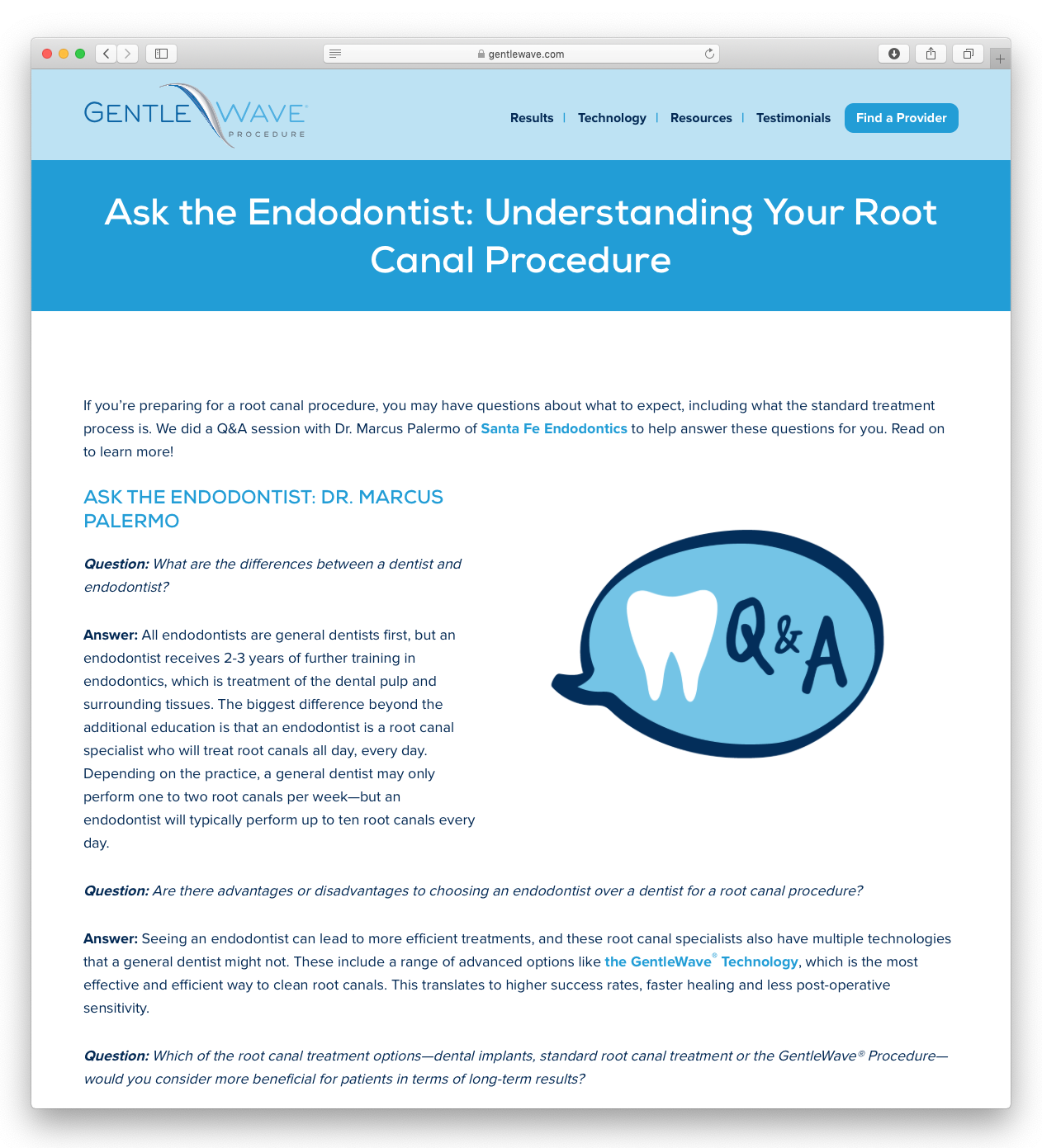 Take the Next Step 
Ready to work with a team skilled in search engine optimization? Reach out to us today.