Fun Fact: LinkedIn is actually older than Facebook. 
LinkedIn has been around since 2003, and what started as a job recruitment platform has turned into a social media and connections platform for businesses and customers alike. What's more? LinkedIn was ranked as the most effective social media platform by 63% of marketers. 
While it is a form of social media, LinkedIn is unique in its ability to connect professionally while providing a platform for businesses to talk about relevant industry development. Wondering if your B2B approach could use some refinement? We can help!
Setting Up Your LinkedIn
Setting up and optimizing your business LinkedIn account is crucial to starting a marketing campaign. By having a LinkedIn company page, you're able to promote your latest updates, showcase your talent and be a leader in your industry. 
To create a company LinkedIn page, you'll have to connect it with your personal LinkedIn profile. Your page's description summary is the first thing a visitor will see, so it should be compelling and informational. Use relevant keywords to make your page SEO friendly while focusing on your company's mission and brand. It's the first impression visitors will get of your company, and you want it to properly represent your goals. 
Content is King
Treat your LinkedIn account like you would any other marketing tool. Regularly shared and published content is essential to growing and maintaining an engaged following. Share content that your followers will find valuable to thus engage with or share with their followers, thereby increasing your reach. Educational content does best on LinkedIn versus direct product promotion—people aren't on LinkedIn to shop.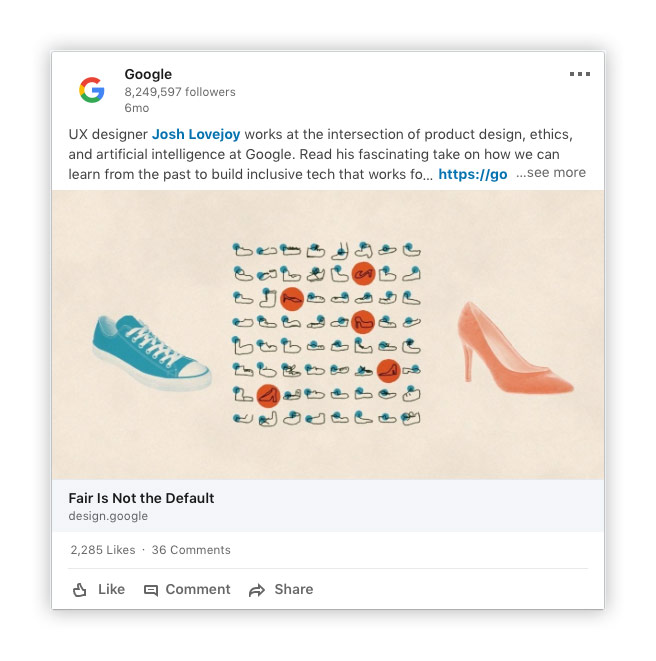 Content doesn't always have to be your own—anything industry-related will show followers that you're on top of trends and events. Think about what your audience will like and what will keep them returning to your page for more. LinkedIn is used by 94% of B2B marketers to distribute content, and 74% of B2B buyers choose a company that is the first to help them with useful content. Being active on LinkedIn is crucial to establishing authority and becoming a respected industry resource. You want to create a recognizable brand for your company. 
While B2B markets to other businesses, behind that business is another human. You're not a robot—don't be afraid to have a sense of humor and use a conversational tone. 
Microsoft is one of the leading B2B industries on LinkedIn. Their page is more than just data and products; they share content on technological developments and do a fantastic job with storytelling. It's also about their company culture and interesting insights from other technological industry leaders.  
Establishing Leads
LinkedIn might not be the first place you would think to establish leads, as it's known for its job search and corporate connection features. But using these elements can help establish trust and respect among companies, leading to future business deals. In fact, 79% of B2B marketers say that LinkedIn is an effective source for generating leads. 
The goal of LinkedIn is not to sell but to start conversations and build relationships, so that when people do need a product, they know where to turn. Naturally, leads don't happen overnight. People need time to trust your company (and you) and see your business as a potential source for their future business endeavors. By providing educational content on a regular basis, others will see you as a company to turn to for advice, and later on, products.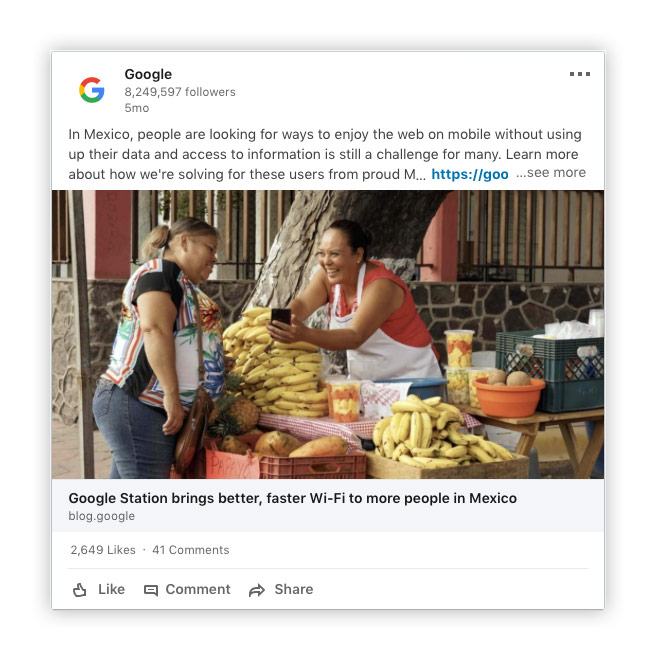 Try establishing a LinkedIn group to build up leads and generate authority in your field. This gives you control over content and members, providing a leadership role for you to leverage your network and demonstrate your expertise. Posting high-quality content and engaging in thoughtful conversations will establish you as a source of knowledge in your industry.
Niche communities allow for meaningful content and discussions to occur, as well for professionals to find support and resources from like-minded individuals. As a group admin, you'll have to get the conversation started and continue to engage with and monitor posts. But once people feel comfortable, they'll turn to your group as a strong resource. 
Images and Video
Images are just as important on LinkedIn as on other social media platforms. Posts with images tend to result in a 98% higher comment rate, both boosting your post engagement and creating excitement around your content. Charts and graphs that help break down information will also resonate with followers, as visual information is easier to digest. 
LinkedIn introduced native videos (videos hosted by the site instead of a third-party platform like YouTube) to the site in 2017. Video content is a strong way to engage followers while delving deeper into your company. LinkedIn auto-plays videos right in the news feed, so it's a beneficial way to entertain and tell stories while providing valuable content. They break up the monotony of text-dense posts and grab the viewer's attention. 
Ads
LinkedIn Ads have effective targeting features that make them right for a B2B advertising strategy. The platform offers different types of ads to help you target different groups. Ready to start your LinkedIn advertising campaign? Take a look at the below formats.
Self-Serve Ads: These ads allow you to create and publish your own ads through LinkedIn's Campaign Manager. You can choose your audience and customize the content and time period. 
Sponsored Content: This type of advertisement lets you share content posts with a targeted audience. It essentially boosts your organic content to audiences outside of your circle but within your selected industry. 
Text Ads: They are designed to drive traffic to your LinkedIn page, utilizing a quick and compelling headline that links back to your company page. This, in turn, drives potential customers in your direction.
Video Ads: Video ads allow for compelling stories and product features in videos ranging from 3 seconds to 10 minutes. They feature a CTA button for viewers to click for more.
Employee Advocacy 
Use your employees to help grow your LinkedIn presence. Encourage them to share company posts and related achievements to expand your posting reach. Employee advocacy is key. People are more likely to trust a company or product based on a recommendation from a friend, so your employees are a beneficial asset to your LinkedIn account.   
Your employees' networks are, on average, about 10 times greater than your company's, and when employees share content, it's viewed as 3 times more authentic. Employee advocacy can attract new business, recruit new talent and boost website traffic. People want to show off their accomplishments and the developments within their workplace, so give them the content to do so. 
HP, an information technology service, features videos on employees, as well as the development of products. Most of their posts are spotlights on their employees and how HP is working to be a diverse employer. Facebook highlights problems they're attempting to solve to better connect people across the world and showcases personal anecdotes of employees and shares their stories.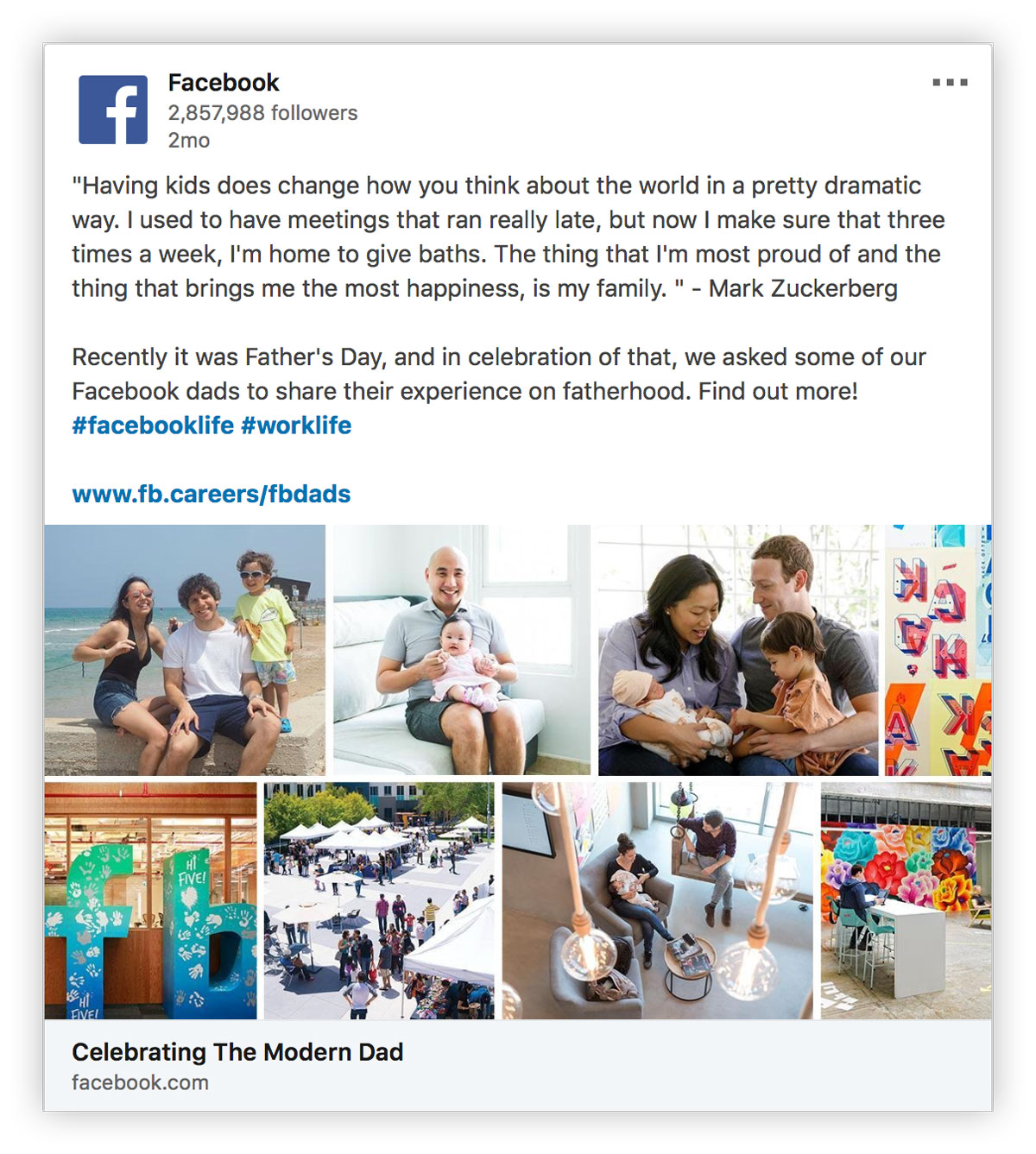 Strengthen Your LinkedIn
Creating and maintaining a strong LinkedIn presence is crucial for any company looking to generate leads and foster relationships with other companies. Think your LinkedIn presence could use some help? Concentrek has the strategies and tools to turn your LinkedIn into a lead generator for your business.